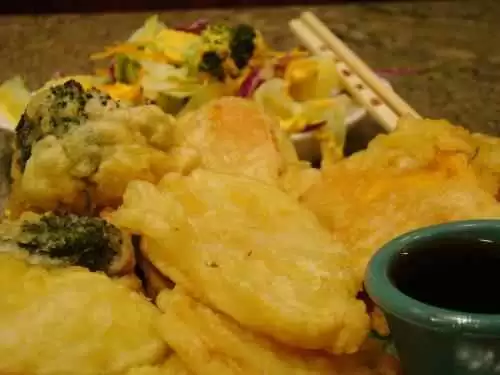 Caption: Photo: CC/norwichnuts
I never thought I would get to eattempura again, once I went gluten-free. Then I found this recipe. Notonly is the following tempura batter recipe gluten-free, it is also,egg-free, dairy-free, corn-free, nut-free, and soy-free. In fact,there are so few ingredients in this batter, that most diets canprobably eat it safely. Tempura can be made for breakfast, lunch,dinner or dessert. I don't like to eat too many greasy or friedfoods, so I like to eat tempura as a side dish combined with rice anda salad for a more balanced meal. This is a thin, but crispy batter,which is a nice light alternative to other heavier tempura batters.
Tempura Vegetables (Gluten-Free)
Batter Serves: 6
Tempura Ingredients:

2 cups rice flour
1 teaspoon bakingsoda
¼ teaspoon sea salt
2 cups cold carbonated water
Vegetable Ideas:
Sweet Potato
Yams
broccoli
carrots
cauliflower
asparagus
mushrooms
zucchini
eggplant
bell peppers
Serve with traditional Tentsuyu dipping sauce
Ingredients:
¼ cup gluten-free vegetable stock, or dashi if you have it
1 Tablespoon Sugar or sugarsubstitute
¼ cup gluten-free Tamari
1 Tablespoon Rice Vinegar
¼ cup Water
Heat all the sauce ingredients in asmall pan until the sugar is dissolved. Set aside to cool.
Note: The thicker the vegetable, thelonger it will take to cook. You may want to blanch thicker vegetablelike sweet potato before frying. Softer vegetables like mushrooms andeggplant do not require blanching. Also, try to cook like-sizedpieces to avoid over or under cooking. I cut my vegetables intoapproximately 1 inch pieces in length, and ¼ inch in width. Avoidovercrowding your veggies and leave plenty of room to keep them fromsticking together. Also if you use meat, be sure your meat is cookingthoroughly to avoid eating raw or undercooked meat.
When you drop a batter coated veggiein, little pieces of batter will explode off the veggie outward liketempura fireworks. These pieces indicate that your batter is hotenough. The veggies should cook for 40 seconds to 1 minute and feelcrispy when you knock them around. You don't need them to be goldenbrown, so don't wait for that.
To make:
Preheat vegetable or high heat oil in adeep pan to approx. 350 F.
Combine the dry ingredients in a mediumsize mixing bowl.
Add the carbonated water and whiskuntil smooth.
Lightly dip ingredients in the batter andimmediately fry them until crispy. It takes longer to fry vegetablesthan to fry seafood.

Drain tempura on a rack or paper towels.

Serve right away with gluten-free soy sauce or your favoritedipping sauce.
Tempura is best served fresh and hot.