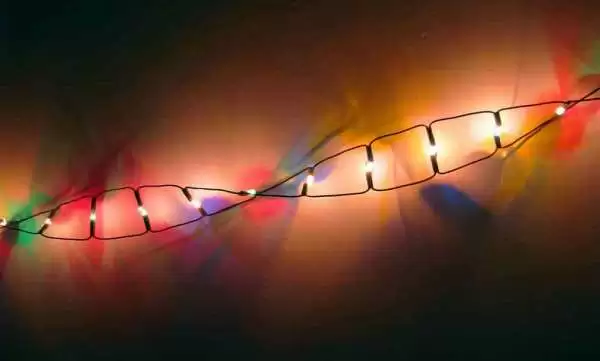 Caption: Image: CC--Stuart Caie
Celiac.com 04/16/2019 (originally published 04/24/2008) - Genetic tests for celiac disease and gluten sensitivity are readily available. Testing can be performed on either blood and mouth swab samples. Tests can be done at home and mailed to the lab for analysis.
A good testing laboratory will provide an accurate prediction of celiac disease risk, and will also provide information about the statistical risk to your children, your likelihood of developing more severe celiac disease, whether one or both of your parents had the risk gene, and for some laboratories, you may determine your risk of gluten sensitivity without celiac disease.
DQ2 & DQ8 Not the Whole Story
---
Celiac.com Sponsor (A12):


---
---
Celiac.com Sponsor (A12-m):


---
About 95% of celiacs carry HLA-DQ2; while about 25% carry HLA-DQ8. If any part of the high risk gene patterns DQ2 and DQ8 is missing, then the likelihood of that person getting celiac disease is 99.9% AGAINST. 
Negative Genetic Test Only Part of the Story
However, "negative celiac genetic testing" is not sufficient for entirely ruling out celiac disease. To definitively declare negative celiac genetic tests requires the laboratory to test for the presence or absence of the entire HLA DQ genetic pattern, including both alpha and beta subunits.
The DQ genetic patterns DQ2 and DQ8 have two subunits, but many laboratories only test for the beta subunit. Few labs test for both. This DQ typing is complicated and difficult to understand even by physicians and scientists. I have written an updated detailed review that appears in the Spring 2008 issue of Scott-Free newsletter published by celiac.com.
No DQ2 & DQ8 Can Still Mean Gluten Problems
Data collected by Dr. Ken Fine of Enterolab supports the fact that the absence of DQ2 and DQ8 does not exclude the risk of being gluten intolerance or sensitive, though it is now looks likely that one or both of those genetic white blood cell patterns are required for celiac disease or celiac sprue to develop. 
However, there is a new study that reports that being negative for DQ2 and DQ8 does not completely exclude the possibility of celiac disease, especially in men. 
Previous studies have documented blood test negative celiac sprue, which is also more common in elderly men with long-standing severe disease. 
Since DQ2 or DQ8 is almost universally present where tissue transglutaminase and anti-endomysial antibodies are present it is not surprising that individuals without DQ2 or DQ8 with negative blood tests are being reported that meet criteria for celiac disease.
These new studies are also providing further information that the genetics of celiac is gender specific. If you are a man, your risk of celiac disease may be higher than a woman if you don't have the classic genetic patterns. Again, in this situation your blood tests may be negative. If you are a woman, the risk for Celiac disease is generally higher than a man, especially if you have received the at risk gene from your father instead of your mother.
Celiac disease is arguably the most common autoimmune disease. It is very common. It is easily treated. It affects 1/100 people worldwide. However, most people with celiac disease (~90%) are unaware, undiagnosed or misdiagnosed. 
Most adults finally diagnosed with celiac disease have suffered at least 10-11 years, and have seen 3 or more doctors. Genetic testing can be extremely helpful in determining your risk for celiac disease, potential severity, and risk for family members. Don't be one of those whose diagnosis is missed or needlessly delayed for over a decade. Get tested! Learn about the genetic tests for celiac disease and if necessary educate your doctor about this testing.
Important Facts About Celiac Disease:
Genetic Testing Can Determine Celiac Risk
Celiac genetic tests can be done on blood or a mouth swab sample but your doctor may be unaware of the tests, not know how to order them, or know how to interpret the results.
Diet Will Not Change Genetic Test Results
Genetic testing is not affected by diet. You can be eating gluten or on a gluten-free diet. Unlike blood tests for celiac disease antibodies, which require a patient to be eating gluten, genetic tests can be done whether or not the person being tested is eating wheat or gluten. 
Diagnostic Codes Can Help Secure Insurance Approval
Many insurance companies pay for celiac genetic testing. Most that pay require pre-authorization. The following diagnostic codes are helpful when requesting insurance coverage: 579.0 (celiac disease); V18.59 (family history of GI disease); and/or V84.89 (genetic susceptibility to disease).
Some Genetic Labs Perform Limited Tests
Many laboratories do not perform the all of the necessary components of the test to completely exclude the possible genetic risk of celiac disease and most don't test for or report the other gluten sensitive DQ patterns. Before you accept that have a negative test you need to know if your test included both the alpha and beta subunits of HLA DQ or did they just perform the beta typing.
Negative Results Can Still Mean Celiac in Rare Cases
In rare cases, some people, especially men, may have a negative genetic test and still have celiac disease. As with blood tests, men more commonly have negative genetic tests, especially older men with long-standing severe disease.
DQ Type Can Influence Celiac Risk and Severity
Both the DQ type, and number of copies you have, matter when determining not only your risk, but also the possible severity of celiac disease. Two copies of DQ2 carries more risk than one copy of DQ8 or only partial DQ2. Even a single copy of DQ2 alpha subunit ("half DQ2 positive") carries risk for celiac disease, but most of the commonly used laboratories for Celiac genetics do not test for or report the presence of this component of the celiac genes.
Negative DQ2 and DQ8 Can Still Mean Gluten Intolerance
The absence of at risk genes DQ2 and/or DQ8 does not exclude the possibility of being gluten intolerant or sensitive. You may respond to a gluten free diet, even if you don't have DQ2 or DQ8, or true autoimmune celiac disease.
No Prescription Needed for Genetic Celiac Testing
You can get genetic testing without a doctor's order and the tests can be done without having blood drawn or insurance authorization if you are willing to pay between $99-300 (www.enterolab.com).
Genetic Testing Labs for Celiac Disease
Laboratories in the U.S. that are known to offer complete alpha and beta subunit genetic testing include Kimball Genetics, Prometheus, and LabCorp. Bonfils, Quest and Enterolab only test for the beta subunit portions and therefore their test can miss part of a minor alpha subunit that carries a risk of celiac disease. A negative DQ2 and DQ8 report from these labs may not necessarily be truly negative for the risk of celiac disease.
Celiac Genetic Testing References and Resources: