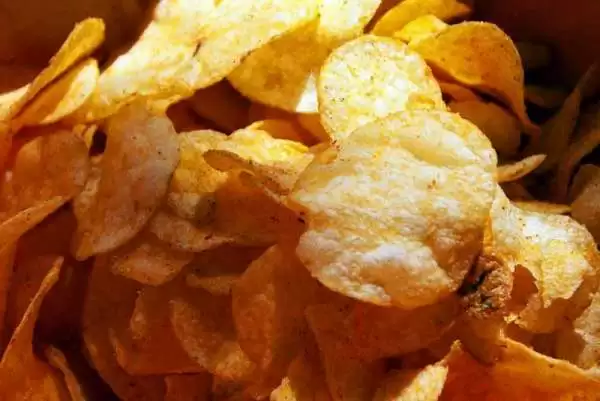 Caption: Image: CC--Leonard J Matthews
Celiac.com 06/25/2019 - Just in time for summer, here are ten of America's top gluten-free potato chip brands. True, potatoes are naturally gluten-free, and so are potato chips, unless they've got added gluten ingredients. However, many brands do not label their chips as gluten-free, and many of these chips may be made on shared equipment. That's not necessarily a big deal, but some people like to play it safe. These brands go the extra mile to make sure their chips are labeled "Gluten-Free," which means that you can breath extra easy about serving them to people with celiac disease.
Do you have a favorite chip that's not on this list? Let us know in the comment section.
Top Gluten-Free Potato Chip Brands Include:
---
Celiac.com Sponsor (A12):


---
---
Celiac.com Sponsor (A12-m):


---
365 Everyday Value
Classic Potato Chips
Organic Black Pepper & Sea Salt Potato Chips 
Organic Sea Salt Potato Chips 
Rippled Sea Salt Potato Chips
Covered Bridge Potato Chips
Irresistible Old Fashioned Potato Chips Sea Salt Flavour
Red & White Potato Chips
Sea Salt & Cracked Pepper
Russet Potato Chips
Sea Salt Russet Potato Chips
Thick Cut Sea Salt Russet Potato Chips
Good Health
Avocado Oil - Bbq Kettle Chips
Avocado Oil - Jalapeno Kettle Chips
Avocado Oil - Lime Ranch Kettle Chips
Avocado Oil - Sea Salt Kettle Chips
Avocado Oil Ridge Cut Buffalo & Cool
Blue Ranch Kettle Style Chips
Avocado Oil Ridge Cut Creamy French
Onion Kettle Style Chips
Avocado Oil Ridge Cut Jalapeno
Cheddar Jack Kettle Style Chips
Avocado Oil Ridge Cut Sea Salt Kettle Style Chips
Baked Puffs Variety 
Kettle Brand
Almond Oil Potato Chips Fiery Thai
Almond Oil Potato Chips Wood
Smoked Sea Salt
Avocado Oil Potato Chips Chili Lime
Avocado Oil Potato Chips Hawaiian Barbeque 
Avocado Oil Potato Chips Himalayan Sea Salt 
Krinkle Cut Potato Chips Buffalo Bleu
Krinkle Cut Potato Chips Carolina Bbq
Krinkle Cut Potato Chips Classic Bbq
Krinkle Cut Potato Chips Dill Pickle 
Krinkle Cut Potato Chips Salt & Fresh Ground Pepper 
Krinkle Cut Potato Chips Sea Salt 
Krinkle Cut Potato Chips Sea Salt Kirkland Signature 
Krinkle Cut Potato Chips Southern Bbq
Krinkle Cut Potato Chips Wasabi Ranch
Krinkle Cut Potato Chips Wasabi Ranch
Organic Baked Potato Chips Sea Salt
Organic Potato Chips Pepperoncini 
Organic Potato Chips Sea Salt & Vinegar 
Organic Potato Chips Sea Salt 
Organic Potato Chips Sour Cream And Onion
Organic Sweet Potato Chips Sea Salt
Potato Chips Backyard Bbq 
Potato Chips Bourbon Bbq 
Potato Chips Bourbon Bbq 
Potato Chips Cheddar Beer 
Potato Chips Classic Caesar 
Potato Chips Korean Barbeque 
Potato Chips Lightly Salted 
Potato Chips Low Sodium 
Potato Chips Maple Bacon 
Potato Chips Moscow Mule 
Potato Chips New York Cheddar 
Potato Chips Pepperoncini 
Potato Chips Red Curry 
Potato Chips Roasted Garlic 
Potato Chips Sea Salt & Crushed Black Peppercorns 
Potato Chips Sea Salt & Vinegar 
Potato Chips Sea Salt 
Potato Chips Sour Cream & Onion 
Potato Chips Yogurt & Green Onion
Real Sliced Potato Chips Cheddar & Roasted Tomato 
Real Sliced Potato Chips Hickory Honey Bbq 
Real Sliced Potato Chips Olive Oil 
Real Sliced Potato Chips Sea Salt & Vinegar 
Real Sliced Potato Chips Sea Salt 
Real Sliced Sweet Potato Chips Sea Salt 
Reduced Fat Potato Chips Kk Sea Salt & Vinegar 
Reduced Fat Potato Chips Salt & Fresh Ground Pepper 
Reduced Fat Potato Chips Sea Salt 
Rte Jalapeno Popcorn
Rte Maple Bacon Popcorn
Rte Salt & Pepper Popcorn
Rte Sea Salt Popcorn
Rte Sriracha Popcorn
Rte White Cheddar Popcorn Snyde
Uprooted Vegetable Chips Sweet
Potatoes Beets And Parsnips Sea Salt 
Uprooted Vegetable Chips Sweet
Potatoes Chipotle Honey 
Uprooted Vegetable Chips Sweet
Potatoes Sea Salt 
Uprooted Vegetable Chips Sweet
Potatoes Sweet Potato Pie
LUKE`S
Luke's Organic Kettle Style Barbecue Potato Chips 
Luke`s Organic Kettle Style Cheddar And Sour Cream Potato Chips 
Luke`s Organic Kettle Style Sea Salt And Vinegar Potato Chips 
Luke`s Organic Kettle Style Sea Salt Potato Chips 
Luke`s Organic Potato Chips Bbq Can 
Luke`s Organic Potato Chips Salted
Luke`s Organic Potato Chips Sour Cream & Onion  Can
Luke`s Organic Potato Chips Wavy
Luke`s Organic Potato Chips 
One Potato Two Potato
Bar-B-Que Kettle Chips
Classic Sea Salt Kettle Chips
Hawaiian Bbq Kettle Chips 
Kettle Potato Chips W/ Hawaiian Bbq
Kettle Potato Chips W/ Mexicali Salsa
Kettle Potato Chips W/ Naked Sea Salt
Kick`N Buffalo Ranch Kettle Chips
Naked Sea Salt Kettle Potato Chips
Ny Kosher Dill Kettle Potato Chips
Pacific Rim Organic Kettle Chips
Plain Jaynes Sweet Potato Chips
Root Fusion Root Vegetable Chips
Savannah Sweet Onion Kettle Potato Chips 
Seaside Salt `N Vinegar Kettle Potato Chips
Sgt. Pepper & Capt. Sea Salt Kettle Potato Chips 
Sour Cream & Onion (Flavored) Kettle Chips
Sweet `N Salty Kettle Chips
Vermont Salted Maple
Route 11 Potato Chips
Dill
Lightly Salted
Sweet Potato
Lightly Salted
Barberque
Crab
Dill
Lightly Salted
Mama Zuma`s
Salt & Vinegar
Sour Cream & Chives
Saratoga Chips
Balsamic Vinegar Chips
Balsamic Vinegar Chips
Cinnamon Sweet Potato Chips
Cracked Pepper Chips
Dark Russets
Dark Russets
Honey Bbq Chips
Honey Bbq Chips
Old Glories
Original Himalayan Chips
Rosemary Garlic Chips
Saratoga Original Hd
Salted Sweet Potato Chips
Thai Sweet Chili Chips
Wavy Kettle Chip
Utz
Kettle Style - Thin Cut 40% Reduced Fat Potato Chips
Kettle Style - Thin Cut Gourmet Medley Potato Chips
Kettle Style - Thin Cut Lightly Salted Potato Chips
Natural Thin Cut Kettle Style Gourmet Medley
Natural Thin Cut Kettle Style Lightly Salted
Natural Thin Cut Kettle Style Reduced