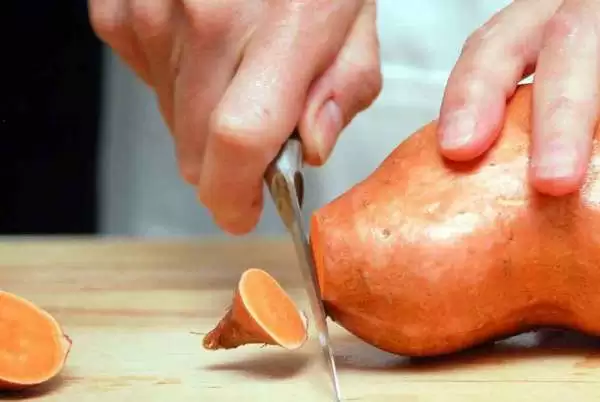 Caption: Image: CC BY 2.0--Steve A Johnson
Celiac.com 06/22/2019 - It's true that sweet potatoes are naturally gluten-free, and so are sweet potato chips, unless they contain added gluten ingredients. However, the brands listed below go the extra mile to make sure their chips are labeled "Gluten-Free," which means that you can be extra confident about serving them to people with celiac disease.
Here are some top brands of gluten-free sweet potato chips that will help to make your barbecue, picnic and cookout season extra crunchy and delicious. Do you have a favorite brand we've missed? Tell us your favorites below.
Top Brands of Gluten-Free Sweet Potato Chips Include:
---
Celiac.com Sponsor (A12):


---
---
Celiac.com Sponsor (A12-m):


---
Cadia
All Natural Sweet Potato Chips
Be.Better Salted Sweet Potato Chips
Sweet Potato Chips With Sea Salt
Salted Sweet Potato Chips
Sweet Potato Chips With Cinnamon & Brown Sugar
Good Health (By Utz)
Sea Salted Sweet Potato Chip
Sweet Chipotle Sweet Potato Chips
Sweet Potato Chips
Plantain Chips
Cassava Chips
Veggie Chips (Potato, Sweet Potato, Beetroot & Cassava Chips) Original Flavor 
Organic Sweet Potato Chips Sea Salt
Real Sliced Sweet Potato Chips Sea Salt 
Organic Sweet Potato Chips
Plain Jaynes Sweet Potato Chips 
Vermont Salted Maple Sweet Potato Chips
Sweet Potato Chips
Sweet Potato, Ngmo Project
Salted Sweet Potato Chips
Sweet Potato Sea Salt (Crinkle Cut)
Terra Sweets & Blues 
Terra Chips Mediterranean 
Terra Chips (Mex) Sweet Potato With Sea Salt 
Terra Chips Artisan Blend Sea Salt
Terra Chips Beauregard Sweet Fairytale Pumpkin Cinnamon Nutmeg 
Terra Chips Beauregard Sweets 
Terra Chips Can Blues 
Terra Chips Can Chips Original 
Terra Chips Can Exotic Vegetable Chips
Terra Chips Can Krinkle Cut Sweet Potato Chips 
Terra Chips Can Mediterranean Chips
Terra Chips Can Original Chips 
Terra Chips Can Sweet & Beets
Terra Chips Can Sweet Potato Carrot
Krinkle Cut Terra Chips Can Sweet Potato Chips Plain 
Terra Chips Can Sweets & Beets 
Good Health Brand
Sea Salted Sweet Potato Chip
Sweet Chipotle Sweet Potato Chips