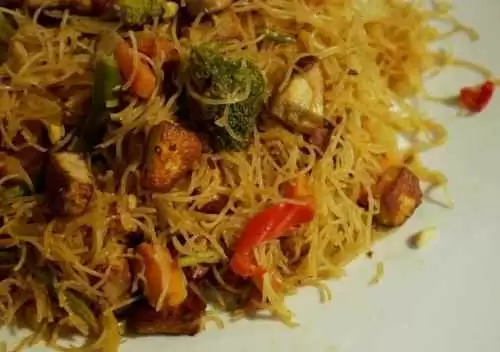 Caption: Gluten-Free Noodle Salad (photo courtesy of House of Sims)
This is a light dish that can be served as a meal or eaten as a side dish. The ingredients can vary depending on your taste buds. Preparation for this Thai salad is very minimal and with the right ingredients, this is a perfect quick gluten-free meal. This salad is light so it is perfect for those hot summer nights when you don't want to eat a heavy meal.
Prep Time: 30 minutes
Cook Time: 5 minutes
---
Celiac.com Sponsor (A12):


---
---
Celiac.com Sponsor (A12-m):


---
Serves: (2) as a main dish or (4) as a side dish

Ingredients:

8-10 oz. thin dried rice noodles (vermicelli size)
2 tomatoes, cut into small slices
5 green onions, sliced finely
2 cups snow peas, steamed or boiled until bright green but still firm
1-2 cups bean sprouts
1 cup fresh coriander or cilantro, roughly chopped
1 cup fresh basil, roughly chopped
1/4 cup dry-roasted peanuts OR cashews, left whole or lightly chopped
 1/2 cup deep-fried tofu, cut into small cubes

Garnish:


 fresh basil
 fresh coriander
chopped peanuts

Dressing:

1 Tbsp. vegetable oil
1 tsp. sesame oil
2 Tbsp. gluten-free fish sauce OR 2 extra Tbsp. gluten-free soy sauce
5 Tbsp. gluten-free soy sauce
1 fresh red chili, de-seeded, OR 1/2 tsp. dried crushed chili or cayenne pepper
1-2 Tbsp. brown sugar or sugar substitute (to taste)
juice of 1 fresh lime
2 cloves garlic, minced
Preparation:
Dunk noodles in a pot of boiling water. Remove pot from heat and allow noodles to soften in the hot water 10-15 minutes, or until soft enough to eat ('al dente'). When ready, drain and tip noodles into a large mixing bowl.
Add the bean sprouts while noodles are still hot and gently toss (the residual heat from the noodles will lightly cook the sprouts).
Mix the dressing ingredients together in a cup, stirring well to dissolve the sugar. Taste-test for a sweet-sour balance, adding more sugar if too sour for your taste. Note that the dressing will taste quite strong/salty now, but will be milder when combined with the salad.
To the bowl of noodles and sprouts, add the tomatoes, green onion, shrimp or tofu, and fresh coriander. Toss to mix (If you're having trouble combining the noodles with the other ingredients because the noodles are too long and tangled, cut them several times with a pair of clean scissors.)
Now add the dressing, fresh basil, and nuts, tossing well to incorporate.
Taste test the salad. If not salty enough, add more fish sauce or soy sauce. If not spicy enough, add more chili. If too salty, add a little more lime juice.
Eat immediately, or cover and allow to sit in the refrigerator for an hour or two, or until cold.
 Place on a serving platter or in a salad dish and sprinkle with fresh basil, coriander, and peanuts.
Serve with wedges of lime.
Note:

I like to eat lots of veggies, so I add things like steamed cauliflower, broccoli, and carrots. Also, this salad tastes best when eaten fresh, as rice noodles tend to dry out when left longer than 2 days. Until then, place in a tightly sealed container in the refrigerator, and enjoy!