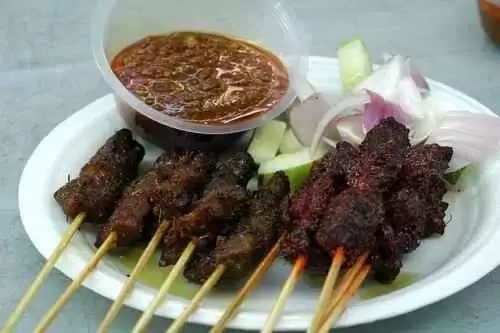 Caption: The finished satay skewers. Photo: Wikimedia Commons--jpatokal
Celiac.com 08/13/2013 - These Thai-style beef and chicken skewers are a big hit at parties and barbecues. They taste great with peanut sauce, and will deliver big flavor and lots of smiles every time I make them.
That said, this dish carries a peanut alert! Because of this, I always check ahead before bringing the more traditional version with peanuts and peanut sauce in any group situations. Depending on the situation, I will bring the substitute dipping sauce along with the peanut sauce, or just drop the peanuts altogether, as needed.
---
Celiac.com Sponsor (A12):


---
---
Celiac.com Sponsor (A12-m):


---
That said, these are easy to make, delicious, and always a crowd-pleaser. Enjoy!

Chicken Satay

Ingredients:
1 pound skinless, boneless chicken, cut into strips
½ cup canned coconut milk
2 teaspoons ground coriander
1½ teaspoon yellow curry powder
1½ teaspoon fish sauce
½ teaspoon chili oil
1½ tablespoon chopped fresh cilantro
2 tablespoon chopped unsalted peanuts
1 dozen wooden skewers, soaked in water for 20 minutes
1¼ cup gluten-free Thai peanut sauce
In a medium bowl, stir together the coconut milk, ground coriander, curry powder, fish sauce, and chili oil. Add the chicken breast strips, and stir to coat. Cover, and refrigerate for at least 30 minutes, and up to 2 hours.
Preheat an indoor or outdoor grill for high heat. Thread the chicken strips onto skewers. Throw out marinade.
Grill chicken for 2 to 3 minutes per side, until no longer pink. Time will depend on how thick your strips are.
Transfer to a serving plate, and garnish with cilantro and peanuts. Serve with peanut sauce, or substitute sauce below, for dipping.
Beef Satay
Ingredients:
1 pound flank steak, sliced thin
2 tablespoons each lime juice and fish sauce
1 tablespoon each sugar and hot chili sauce
3 tablespoons cilantro
Directions:
Mix lime juice, fish sauce, sugar, hot chili sauce, and cilantro.
Add thin slices of flank steak, cover and marinate up to 12 hours in refrigerator.
Skewer and grill beef for 2 to 3 minutes per side, until no longer pink.
Serve with cilantro and peanuts, jasmine rice, and peanut sauce for dipping.
Peanut Sauce
Ingredients:
1 can regular coconut milk (13.5-ounce--NOT reduced fat)
¼ cup Thai red curry paste
¾ cup unsweetened pure creamy peanut butter (peanuts only, no other ingredients)
1½ teaspoons salt
¾ cup sugar
½ cup water
2 tablespoons of apple cider vinegar or white vinegar (Do not use white wine, red wine, balsamic, rice or anything other kind of vinegar)
Directions:
Put ingredients into a medium sauce pan on medium heat and whisk until it comes to a very gentle boil.
Reduce heat to low, and simmer for 3-5 minutes over low heat; be careful not to let the mixture scorch at the bottom of the pot.
Take the pot off the heat, allow sauce to cool to about room temperature, and serve with satay.

**Note: Here's an alternative to peanut sauce for dipping.
Peanut-free Dipping Sauce
1 cup sugar
½ cup water
½ cup white vinegar
2 tablespoons garlic, finely chopped
2 tablespoons gluten-free fish sauce
1½ teaspoons chili sauce
2 tablespoons lime juice
Directions:
Mix sugar water and vinegar in a small saucepan. Boil for 5 minutes.
Lower heat. Stir in garlic, fish sauce and chili sauce. Simmer for 2 minutes.
Remove from heat. Cool and add lime juice and shredded carrot. Serve.