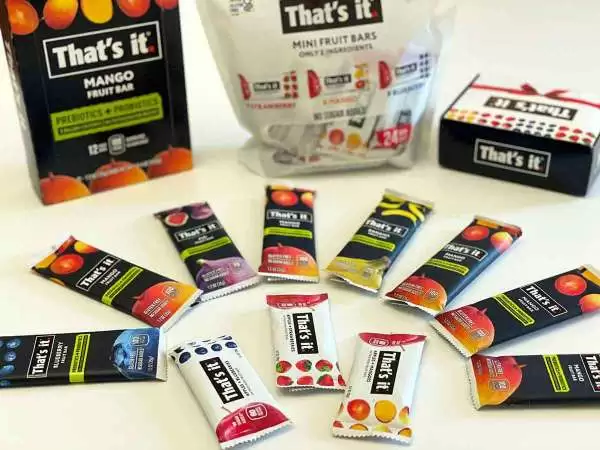 Caption: Image: Scott Adams
Celiac.com 02/26/2021 - Sometimes nothing can beat simplicity, and let's face it, too many foods have too many ingredients. There is probably a direct correlation between the number of ingredients in a food, and whether or not it's considered to be junk food—the more ingredients, the more likely it's junk.
That's it. is a company that has taken this concept to heart, and has followed the "KIS" principle—keep it simple! So much so, in fact, that each of their bars contains only fruit and active cultures (bacillus coagulans), and that's it! I love each bar's texture. They're all gluten-free of course, and are soft to bite and chew, and they won't stick to your teeth.
---
Celiac.com Sponsor (A12):


---
---
Celiac.com Sponsor (A12-m):


---
Their Blueberry Probiotic Fruit Bar contains only blueberries, dates and cultures, and that's it. There are no added sugars or preservatives in any of their bars, and this bar has a rich blueberry flavor with a hint of dates.

Likewise their Mango Probiotic Fruit Bar contains only mangoes and cultures, and if you love mangoes as much I do, this one will quickly become your best friend.

Their Fig Probiotic Fruit Bar contains only figs and cultures, and anyone who loves figs will get hooked on it—it's outstanding!

Their Banana Probiotic Fruit bar contains only bananas and cultures, and this one is mandatory for anyone who love bananas!

In addition to their full-sized Probiotic Fruit Bars with prebiotics and probiotics, That's it. also makes a line of Mini Fruit Bars that you can find at retailers like Costco, which includes the following wonderful flavors:
Apples + Blueberries
Apples + Mangoes
Apples + Strawberries
Visit their site for more info.