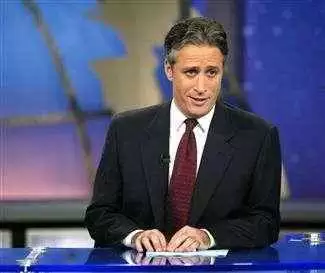 Caption: Photo: Wikimedia Commons
Celiac.com 06/26/2014 - In a segment that was noteworthy for its accuracy, focus and generous time allotment, The Daily Show host, Jon Stewart, opened up about his son's experiences with celiac disease.

For the segment, Stewart interviewed actress and gluten-free baker Jennifer Esposito about celiac disease, and about Esposito's new book, and gluten-free bakery, both named Jennifer's Way.
---
Celiac.com Sponsor (A12):


---
---
Celiac.com Sponsor (A12-m):


---
Esposito talked about her own years-long struggles with chronic symptoms of celiac disease, and with her difficulties in getting a proper diagnosis.

In what might be one of the most widely watched, in depth talks about celiac disease on major television, the show devoted nearly six minutes to the subject.

In classic Stewart style, the segment was both accurate and informative, while still remaining true to its comic roots.

For example, Stewart was quick to point out that "…celiac disease is quite different from, what it's called, like gluten sensitivity or the more faddish of those types of diets," he said.

On the comic side, Stewart noted that, for Jews, celiac disease has been described as "like Passover, but year-round" just without the matzo.
On the more personal side, Stewart shared what celiac disease meant to him personally through the story of his son's struggle with the condition.

"For the boy, he was having these terrible episodes of vomiting. And then he got anemic, and we were absolutely devastated and frightened that he was dying. We couldn't figure out what was going on."

Kudos to Stewart for using his show and his interview with Esposito to promote clear, accurate information about celiac disease.

Catch the segment below, and be sure to check out the comments section to tell us what you think about such high profile, accurate, and, dare I say, entertaining coverage of celiac disease.