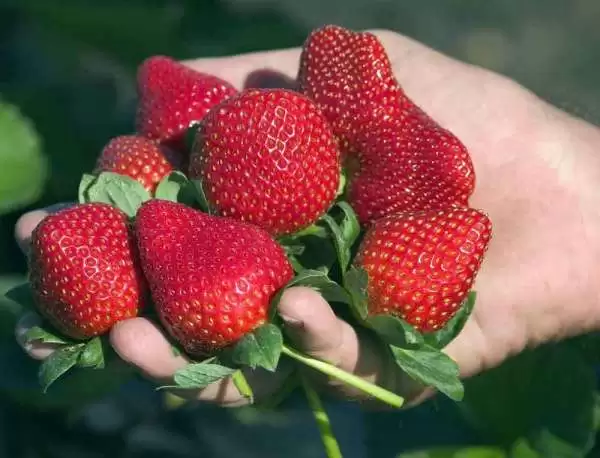 Caption: Strawberries in hand. Image: CC BY-SA 2.0--Sheba_Also 43,000 photos
Celiac.com 06/29/2019 (originally published 07/12/2010) - We all grew up hearing the saying, "An apple a day keeps the doctor away."  As it turns out, this saying is based in truth.  Eating more fruit really does make us healthier.
Fresh fruits provide many benefits.  Most fruits act as a natural laxative because they contain roughage and fiber.  They are bursting with vitamins and minerals and are very low in sodium.  The various bright colors of fruits are pigments called phytonutrients, which are extremely potent antioxidants and help protect your body against cancer-causing free radicals.  Some fruits (tart cherries and apples especially) help reduce inflammation and lower cholesterol and triglyceride levels.
---
Celiac.com Sponsor (A12):


---
---
Celiac.com Sponsor (A12-m):


---
The USDA recommends four to five servings of fruit per day.  Whew!  That's a lot.  Few of us manage to consume that much.  There are supplements on the market, but you don't get the same nutritional value as when you eat the fruit itself.  And natural fruit is a great source of energy to keep you going throughout the day.

To gain the most benefit from eating fruit, it's best to eat a wide variety.  Now, you can find almost any fruit you like all year long… But is it wise to buy that fruit?  

In America, strawberries ripen in the spring, watermelons in late summer.  But the grocery store shelves have these items throughout the year because they are imported.  More and more, food experts are advising us not to buy imported fruits and vegetables.  Many of the countries where we get our fruits have very lax rules and regulations governing food production.  Only a minuscule percentage of the imported shipments are inspected.  Mike Doyle, director of The University of Georgia's Center for Food Safety says, "The FDA doesn't have enough resources or control over this situation presently."

In an average month, the FDA detains about 850 shipments of imported foods for issues ranging from filth, to unsafe food coloring, to contamination with pesticides, to salmonella.  And that's with just 1.3% of the imports inspected.  As for the other 98.7%, it's simply not inspected, much less detained, and goes directly into our food supply.  

A safer approach is to buy U.S.  grown fruits when they are in season… and something good is always in season.  Instead of getting the exotic fruits (lychee and star fruit come from S.E.  Asia), find new ways to incorporate the more familiar, home-grown fruits into your diet.

For breakfast, your options are many.  If you like pancakes, add mashed banana, shredded apples, or pureed pumpkin (which is technically a vegetable) to the batter.  Do you have muffins or sweet breads with your eggs?  When making the batter, stir in shredded or mashed fruits, raisins, dried cranberries, or even crushed pineapple.  Make a smoothie with blueberries, strawberries, bananas and milk.  Broil peach halves with a little cinnamon to have with breakfast.  Whether you're having a cold cereal or a bowl of hot cereal, add berries or sliced bananas.

At lunch time, add pineapple tidbits to chicken salad or fold fruit into cottage cheese or yogurt.  If you're making a PB&J sandwich, add sliced bananas.  Shred an apple into your coleslaw.  

Mid-afternoon, when you crave something to cut the hunger pangs, grab a piece of fresh fruit.  Other choices include making a trail mix of mixed nuts and mixed dried fruits, eating a small container of applesauce, or dipping fresh fruit slices into a cream cheese dip or peanut butter.

When you make the salad for dinner, use spring mix field greens and add sliced kiwi, berries, diced peaches or nectarines, mandarin oranges, melon balls, or whatever fruits are in season.  Stuff pork tenderloin with dried apricots and prunes.  Add grapes or orange slices to your baked chicken.  Bake fish with lemon slices and serve topped with a fruit salsa.  Top servings of ham with grilled pineapple slices.  Add apples or dried cranberries to your yam dishes.  Make pear sauce (same as applesauce but using pears instead of apples) as a side dish.

Finally, don't forget to incorporate fruit when it's time for dessert.  If you're baking cookies, fold in raisins, dried cranberries, or chopped dates and substitute applesauce for some of the butter called for in the recipe, or make banana cookies.  Add thinly sliced peaches, apples, bananas, or blueberries or raisins to bread pudding.  Stuff apples with a little brown sugar, raisins, and a drizzle of honey and bake.  Kids love baked bananas—slice the banana in half, spread with peanut butter, honey and a sprinkling of chocolate chips; wrap in foil and bake.  Top ice cream or a slice of gluten-free cake with strawberries or a fresh cherry topping.  In the summer, make a fresh fruit bowl of assorted melons; add toasted coconut and toss with apricot nectar.  Or put fresh fruit in a blender, add a little fruit juice, then freeze in cups for homemade popsicles.
Gluten-Free Tropical Fruit Shake
The recipe below is from the Gluten-free Low Carb 10-Day Menu.
Ingredients:
1 ripe nectarine, pealed and pitted
2 tablespoons frozen pina colada mix (non alcoholic)
1/2 banana, frozen
4 strawberries, frozen
6 ice cubes
1-1/4 cups cold water
Directions:
Combine all ingredients in a blender and blend until smooth.  Yield:  1 serving.