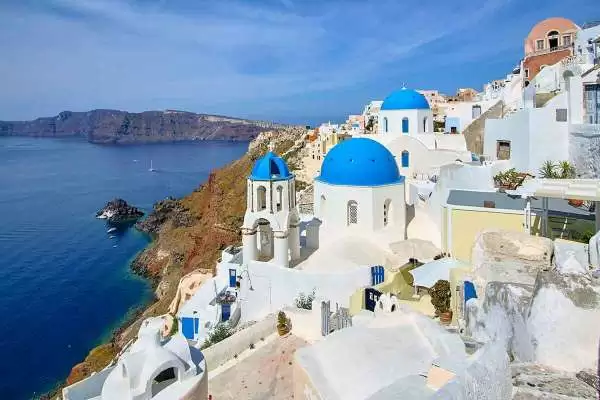 Caption: Santorini, Greece. Image: CC BY-SA 2.0--szeke
Celiac.com 02/27/2021 - Some people eat to live.  The Greeks definitely live to eat.  The Greek Cuisine is very special (OK, so being Greek, I'm a little biased).  While some of the Greek pastries may be a bit challenging, for the most part Greek cooking is simple.  What distinguishes it from other cuisines are the herbs and spices used, the dependence on extra virgin olive oil, lemon juice and tomato sauce, and the fact that most meat dishes are cooked to the point where the meat is so tender it literally falls off the bone.  
No matter how many people we are planning to serve, we end up making double the amount actually needed.  Greeks overcook.  It's hereditary to do this.  But half the fun of entertaining is being able to eat leftovers the next day.  We also prepare more dishes than necessary.  In years gone by, it was customary when entertaining to serve a minimum of two entrees (meat, fish/poultry), two vegetable dishes, potatoes plus pasta or rice, salad, and either cheese or spinach pies.  Dessert always meant serving fruit, two different Greek cookies, two "desserts" (pie, cake, torte) plus baklava.  Thank goodness times have changed.  The old way of entertaining was bad for the budget, bad for the waistline, and bad for time management.  It took days to prepare for guests.  Now it is permissible to serve one entrée, one starch, one vegetable, salad, and a pita (cheese, spinach or other vegetable pie) is still included...  It's just the desserts that we haven't really been able to reform.  It is very rare to go to a Greek home and be served just one dessert.  
---
Celiac.com Sponsor (A12):


---
---
Celiac.com Sponsor (A12-m):


---
Greek cooking relies heavily on vegetables, especially beans, zucchini and eggplant.  Oregano and garlic are used in almost everything, with mint and dill tying for a close second.  Cheese preferences definitely include feta and kasseri (kasseri is similar to white sharp cheddar).   Fish of all kinds (including octopus and squid) are a mainstay of the diet with lamb ranking first in meat choices (spring lamb—definitely not mutton).   

Excluding the pastries and breads, most Greek foods are gluten-free because it they are dependent on using fresh foods.  

Greeks are big on appetizers and one of their favorites is Fried Cheese (Saganaki).  There is a very hard cheese called kefalotiri.  If you can't find that, use kasseri, about ¾ pound, sliced ½ inch thick.  Whip one egg well in a bowl, then pour it into a plate.  Dip the cheese into the egg (both sides) then dip the cheese into some gluten-free flour mixture to lightly coat both sides.  Heat 1 tablespoon olive oil in a skillet until it is very hot.  Add the cheese and fry it, turning it once.  The high heat will form a golden crust on the cheese.  Cook just until the center of the cheese is softened but not melted.  Squeeze some fresh lemon juice over the top just before serving.  Serve it while it is hot.

The most popular Greek salad is Peasant Salad.  It consists of cut-up cucumber, tomatoes, onions and green pepper.  The vegetables are tossed with extra virgin olive oil, apple cider vinegar, salt, pepper, a generous portion of oregano and cut-up feta cheese.

The Italians have Eggplant Parmigiana, but the Greeks have Mousaka.  This is a baked creation consisting of fried eggplant slices, thinly sliced potatoes, browned ground beef and onions, tomato sauce with cinnamon, and a milk and egg creamed topping.  While this is meant to be a side dish, it is often served as the main entrée.

Traditionally, Greeks fast for 40 days during Lent only eating things that grow from the ground.  During this time, I don't think there is a Greek household anywhere in the world that doesn't serve stewed green beans as an entrée.  This dish is a staple.  Brown lots of chopped onions, carrots and celery in olive oil.  Add chopped parsley, salt, pepper and whole green beans.  Pour in an ample amount of tomato sauce and a little water, cover and simmer for an hour.  Then there are the variations—sometimes one or more of the following are added:  peas, chickpeas, chopped spinach, cut-up potatoes, northern beans, and/or cut-up zucchini.

Another staple in a Greek household is homemade yogurt.  It is a bit thicker than commercial yogurt and the flavor is exquisite.  To make commercial gluten-free plain yogurt taste more like homemade, strain it in cheesecloth for three hours in the refrigerator.  The next time you make rice, put a large dollop of plain yogurt on top of it...  Don't turn up your nose...  TRY it!  Plain yogurt is also served as a dessert topped with a heavy, sweet honey.  

Tiropites (cheese pies) and spanakopita (spinach and cheese pies) are about as Greek as you can get.  What both of these have in common is that they are traditionally made with phyllo dough.  If you have the time and the patience, you can make your own homemade gluten-free phyllo dough and roll it very, very thin.  For a shortcut, you may use rice papers.  Rice papers are available at Asian markets.  Some brands are made from rice and water, while others have wheat added, so check the ingredients carefully.  These papers are round and brittle.  By soaking them in tepid water for about 3 minutes, they become very soft and pliable.  Either of the above fillings (cheese or spinach) may be rolled inside these papers instead of the phyllo.  Brush the inside of the rice paper (before filling) with melted butter, olive oil, or gluten-free nonstick spray, set the rolls on a greased baking sheet, then brush the tops of the filled rolls with the butter, oil or spray.  Cover and refrigerate until ready to bake.  After baking, eat right away.  One major drawback of using the rice papers is that the papers will become extremely tough if allowed to cool down completely after baking.

While baklava is the most well-known Greek dessert, Rizogalo (Greek rice pudding) is probably the favorite.  You have never tasted a rice pudding like this one.  It is thick and rich and ever so good.

From young, Greek kids are taught the importance of food.  If something good happens and we want to celebrate, we cook a big meal.  If something bad happens, we console ourselves by cooking a big meal.  We were ingrained with the premise that cooking and consuming good food was the answer to all of life's problems.  
Gluten-Free Greek Rice Pudding
This recipe may be found in my "Wheat-free Gluten-free Dessert Cookbook". Do not use instant or converted rice for this recipe.  Short-grain rice (like Carolina brand) works well.  Be patient while stirring the pudding on the stove because it will take about a half hour cooking time to thicken.  
Ingredients:
1/3 cup short-grain rice
1/3 cup boiling water
1 quart half and half, warmed
¾ cup sugar
Dash salt
2 eggs
2 tablespoons butter
1 teaspoon vanilla
Cinnamon
Directions:
Boil the rice in the water in a large saucepan, uncovered, about 5 minutes or until the water has been absorbed.  Stir in the warmed half and half.  Cook slowly, stirring frequently, until the rice is tender and the mixture has thickened.  Add the sugar and salt and stir until sugar dissolves.  Remove pan from heat.  Beat the eggs until light and frothy.  Very slowly (so eggs won't curdle), drizzle a little of the half and half mixture into the eggs, stirring constantly.  Continue to slowly stir the hot mixture into the eggs until at least half has been added to the eggs.  Stir in the butter until melted.  Pour the egg mixture back into the pan with the rice.  Replace pan on medium heat and stir constantly until creamy and thickened, about 15 minutes.  Remove from heat and stir in the vanilla.  Pour the pudding into 6 dessert bowls then sprinkle the tops liberally with cinnamon.  Let cool on the counter.  When completely cool, refrigerate from 1 to 24 hours...  then enjoy!