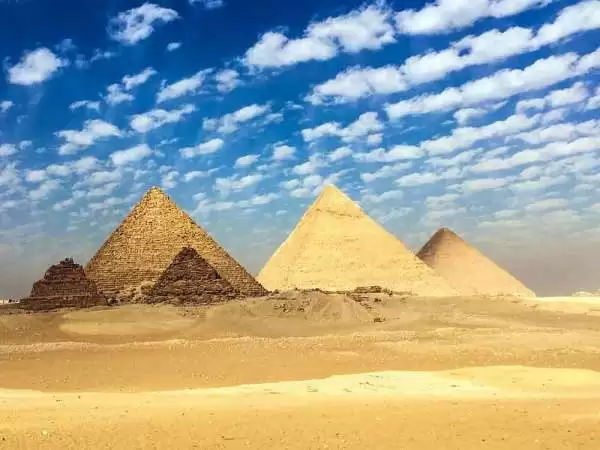 Caption: Pyramids of Giza. Image: CC BY-SA 2.0--Mark Fischer
Celiac.com 04/17/2020 - In 1992, the U.S.  Department of Agriculture published a food pyramid, recommending the following servings per day: 
6-11 servings per day of bread, cereal, rice, and pasta
2-3 servings of meat, poultry, fish, dry beans, eggs, and nuts
For many years, this pyramid was considered almost holy by many nutritionists and dieters.  
---
Celiac.com Sponsor (A12):


---
---
Celiac.com Sponsor (A12-m):


---
A few years ago, the government revised the food pyramid, only to confuse all of us with its uneven pie wedge shapes and staircase on the side.  According to Dr.  Walter Willett, a leading U.S.  nutrition researcher at Harvard Medical School, this new pyramid is simply wrong.

Willett claims that the job of the U.S.  Department of Agriculture is to promote American agriculture.  "What's good for some agricultural interests isn't necessarily good for people who eat their products."  It would have been better (healthier) if the Department of Health or National Institutes of Health had created the new pyramid.

According to Willett, the USDA pyramid puts too much emphasis on red meat and lumps too many types of carbohydrates together.  All carbohydrates are not created equal.  There is too little emphasis on nuts, beans, and healthy oils, all of which have positive health effects.

So Dr.  Walter Willett devised his own pyramid.  It looks like the original one, with a wide horizontal base that slowly builds upwards toward the pinnacle, with a total of 7 layers.  

At the wide base of the pyramid is exercise (to stress its importance) along with a bottle of Vitamin D.  Layer two, the second largest section, is devoted to whole grains and plant oils (primarily olive, avocado, and grapeseed).  The third most important layer is vegetables (in abundance) and fruits (2-3 times a day).  Level four is devoted to nuts and legumes (1-2 times a day).  Level five lists fish, poultry, and eggs.  Dairy (1-2 times a day) is on level six.  At the uppermost tip of the pyramid, labeled "Use sparingly," are red meat, butter, salt, pasta, rice, potatoes, refined grains and sweets.  (This is a major deviation from the original pyramid that listed 2-3 servings of meat, poultry, fish, and eggs per day and 6-11 servings per day of processed bread, cereal, rice and pasta.)
Many people struggle with their weight.  You are what you eat.  So how can you eat healthier?
There are many "faux" foods on the market today -- imitation sugar, imitation soda, imitation chocolate, imitation-almost-everything.  No matter how closely you look at the Harvard Pyramid, there are no artificial foods listed there.  This sobering reality suggests that we are better off eating real food.  
Get in the habit of buying fresh foods when possible, shopping the inside perimeter of the store where fresh produce, fresh meats, and fresh dairy are sold.  Weigh the value of what you prepare-- Alfredo sauce, while it may taste delicious, has no redeeming nutritional value, whereas marinara sauce made from fresh, crushed tomatoes is a healthier alternative.
Even as celiacs, there are viable ways to consume whole grains.  For side dishes, make brown rice or quinoa instead of white rice.  Add flaxseed meal to baked products.  Enjoy buckwheat or cornmeal pancakes instead of pancakes made with white rice flour.  
The pyramid suggests "an abundance" of vegetables, so add veggies to everything.  Thin slices of cucumber, avocado, and tomatoes, along with leaf lettuce, are perfect to add to sandwiches.  Julienned slices of zucchini, red pepper, and onions can be added to turkey wraps.  Scramble chopped green pepper, onions, mushrooms, and zucchini into your morning eggs.  Rice (brown rice) can be enhanced by adding drained garbanzo or black beans, peas, and thinly-sliced carrots and celery.  
If you are preparing your weekly ration of red meat for dinner by grilling a 4-ounce (not an 8- ounce or a 12 ounce) steak, heap piles of sautéed onion, green pepper, and mushrooms on top of the steak.  When making meatloaf, shred carrots, zucchini, onion, celery and green pepper into the mix.  Serve more stews, cutting back on the amount of meat and increasing the amount of vegetables and beans used to prepare the dish.  Stir-fries can be made with very little meat (or better yet, use seafood or chicken breast in place of beef or pork), adding more veggies and stirring in cashews and sesame seeds.  It's doubtful that the fish shown in the pyramid is meant to be deep fried; instead, stew fish with lots of veggies (onions, celery, carrots, spinach) in a seasoned tomato sauce or brush lightly with oil, sprinkle with seasonings, and broil.
Olive oil is a good fat.  Drizzle olive oil over hot, steamed beets, adding a touch of cider vinegar.  Stir-fry in olive oil.  Brush your pan with olive oil when scrambling eggs or making pancakes (preferable buckwheat pumpkin pancakes with shredded apples and cinnamon added).  
Eating healthier is 25% knowing the right foods to eat and 75% making up your mind that you WANT to eat healthier-- not because someone told you to, but because you want to put the very best food into your body for your own good health.
Gluten-Free Tuna Fish Sandwich Recipe Like No Other
This recipe is from Gluten-Free Cooking for Dummies.
Ingredients:
4 slices high fiber gluten-free bread
1/4 green pepper, cut into thin julienne strips
1/8 red onion, sliced thin
1/2 cup baby spinach leaves
2 small plum tomatoes, sliced thin
8 artichoke hearts, drained
1/8 teaspoon pepper
1/4 teaspoon Italian seasoning
1 can (6.5 ounces) water-pack chunk tuna, drained
2 teaspoons Italian dressing
4 slices low fat pepper cheese
Directions:
Preheat broiler.  Place the bread slices in a 9 X 13 inch baking pan.  On each of the slices, layer the green pepper, onion, spinach leaves, and tomatoes, dividing evenly.  Cut the artichoke hearts into quarters.  Lay 4 quarters on each sandwich.  In a small bowl, stir together the pepper, Italian seasoning, tuna, and Italian dressing.  Spoon the tuna mixture over the top of each sandwich then top each with a slice of cheese.  Broil the sandwiches for about 2 minutes or just until the cheese is melted.  Serves 4.