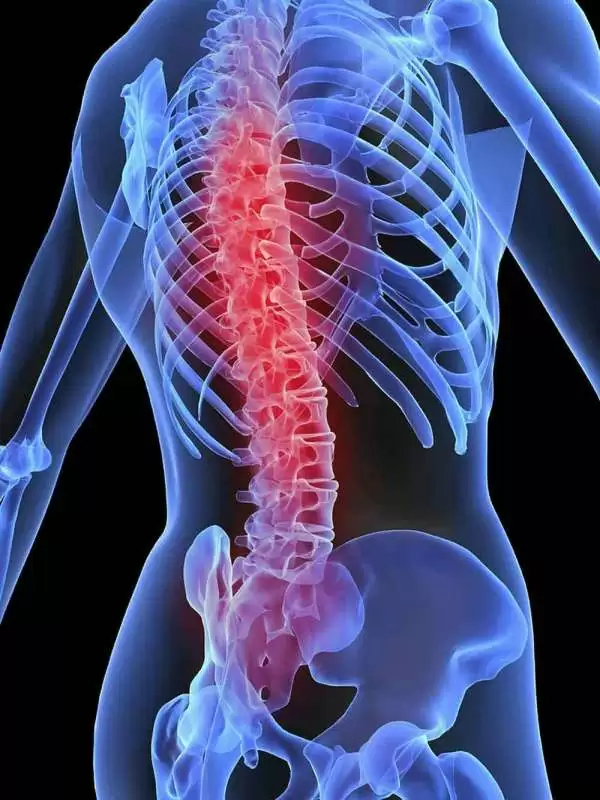 Caption: Osteoporosis. Image: CC BY 2.0--Donut Crash
Celiac.com 01/02/2020 - Osteoporosis is the 11th leading cause of death. 1 in 2 women and 1 in 4 men is affected.  

We sometimes think of our bones like the walls in a room - they hold things up but we consider them rather inert.  On the contrary, our bones are very much alive, constantly remodeling themselves by getting rid of old bone cells and rebuilding with new bone cells.  Further, healthy bones are needed for immune function since all our red and white blood cells are made in the marrow of our bones.

There are some drugs available to "treat" osteoporosis but they are laden with side effects.  Some are even cancerous.

In Nutrition Reviews 2007, a study report titled "Osteoporosis and Inflammation" revealed that inflammation triggers the shift from healthy bones to
osteoporosis.

So let's look at how osteoporosis is related to digestive function.  A recent article in Cell 2008 entitled "When the Gut Talks to Bone" revealed that certain genes (Wnt genes) trigger signaling factors required for the development of bones and nerve structures within the body. What was most interesting was the revelation that these genes are activated by serotonin.  Where is the vast majority of serotonin made?  In the gut!

We have previously seen correlations between the brain and the gut, such as in chronic IBS which is strongly correlated to stress. But gut serotonin actually "talks" to our bone, thereby creating a strong connection between gut health and bone Health. This is quite new in the research. It substantiates something I've seen in my patients for years.

The more inflammation is present, the more the gut makes serotonin which in turn leads to bone breakdown – osteoporosis.

What does all this mean?  It means that lowering inflammation in the body is critical in the prevention of osteoporosis (not to mention heart disease and cancer but we'll leave those connections for another article.)

How do we lower inflammation?  One of the biggest inflammation inducing culprits is gluten. It not only creates local inflammation in the gut but it creates systemic inflammation through its affects on the immune system in sensitive individuals. And remember, current research considers 40% of the population to be gluten sensitive.

In the New England Journal of Medicine 2007 it stated that celiac disease inflamed the gut, thereby creating bone loss.  

The good news in all of this is that reducing inflammation is something we have control over. We can find out if we're among the 40% of the population that is gluten intolerant. We can change our diets.  We can use supplements such as omega-3 fatty acids to reduce inflammation and help heal the lining of our intestines. These tools are within our reach.  Further, remember that gluten reduces absorption of certain key vitamins and minerals such as calcium and Vitamin D, which are critical to bone health. Have your Vitamin D level evaluated and supplement as needed.

Osteoporosis is a very debilitating disease. Now we know it doesn't have to be.