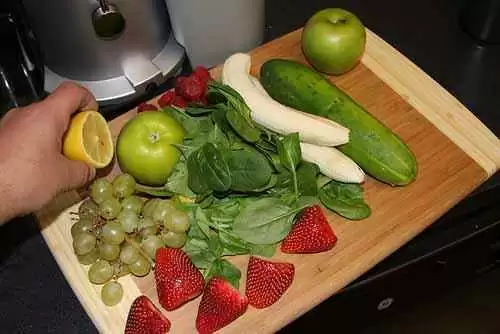 Caption: Carbohydrate Specific Diet (photo courtesy of jthetzel)
Celiac.com 05/03/2010 - Place a single tiny droplet of food coloring on a solid surface, a small plate will do nicely. Don't move it or touch it. What happens? Usually nothing.
Do the same thing in a saucer of water and now what happens? The color spreads and permeates the water.
---
Celiac.com Sponsor (A12):


---
---
Celiac.com Sponsor (A12-m):


---
This similar to the effects of eating a tiny amount of food restricted from your Celiac diet.  I follow The Specific Carbohydrate Diet and it demands scrupulous attention to the kind of food I use and what is in it.

The reason is that minuscule amounts of what we consider "The Undigestibles," feed bad gut bacteria, strengthen them, allow them to multiply and subdue friendly bacteria, all at the expense of a compromised digestive system.

There are ways to determine food ingredients. We have all become more conscious of labels in recent years. Some tell us what is not in the product. I think for most of us celiacs, the magic words are "gluten-free."  The Specific Carbohydrate Diet contingent is very fond of  "free of starch, fillers, gluten and sugar." It's the favorite label of newcomers but not those in the know.

That is because by US law, 2% of ingredients do NOT have to be disclosed on the label and are welcomed into our bodies by a gleeful band of bad bacteria creating a cause for celebration, feasting  and procreation.

Few commercial foods are approved for Specific Carbohydrate Diet and there are even problems with those that are. Ingredients and processing methods of store bought commercial foods are subject to change at any time and without notification.
Periodically we contact companies requesting a document by regular mail or fax on company letterhead and signed by a living being. Email is not acceptable, neither is telephone validation.

Does this sound reasonable?

My own experience leads me to believe it is easier to have the Vatican approve a divorce than to squeeze a response  even from certain juice companies whose products have been approved for years, something I attempted  the last week in April 2010.

Company number one agreed to send the letter. It  hasn't arrived yet.  Company number two looped me from Consumer Support to their nutritionist and I wound up in the legal department with assurance that they would get back to me (something like, "The check is in the mail?"). No word.

These two products were chosen because of their wide availability in North America and even in a few other countries.

What do I do? I have a very effective juicer! The fruit goes in with no additives and out comes juice with no additives, just as it should be. (we always dilute juice as in pure form it has too much natural sugar).

It's my two percent solution.