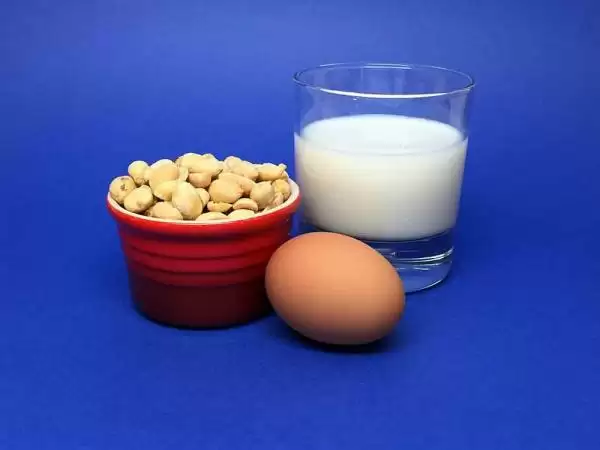 Caption: Image: CC--NIAID
Celiac.com 09/06/2018 - What are the most common foods that can trigger allergic reactions in people? 
First, and it's important to be clear about this, a food allergy is not to be confused with a food sensitivity. Food sensitivities are common and usually harmless, if sometimes uncomfortable. Food sensitivity can cause symptoms like gas, bloating, stomach upset, indigestion, and the like when some people eat certain foods. 
---
Celiac.com Sponsor (A12):


---
---
Celiac.com Sponsor (A12-m):


---
A food allergy, on the other hand, is an immune reaction that happens when the body mistakes harmless food, a peanut for example, for something that could make you sick. When you eat a food you're allergic to, your immune system thinks you're body is being harmed, and reacts to protect you from that harm. This reaction can be as mild as a light skin rash or red, itchy eyes, or it could be serious enough to cause difficulty breathing, swelling, pain, shock and even death. An allergic reaction can happen very soon after eating an allergenic food, or it can happen many hours later. Either way, food allergies are potentially serious, and should be treated as such.

According to WebMD, these nine foods account for about 90% of all food allergies:
Peanuts
Tree nuts, such as walnuts, almonds, pine nuts, brazil nuts, and pecans
Soy
Milk
Eggs
Wheat, barley, and rye—Celiac disease
Oats
Fish
Shellfish
Mild symptoms of a food allergy reaction include:
Red, swollen, dry, or itchy skin and rash (hives or eczema)
Runny or stuffy nose, sneezing, or a slight, dry cough
Itchy, watery, red eyes
Itchy mouth or inside your ear
Funny taste in your mouth
Upset stomach, cramps, vomiting, or diarrhea
Though any of these foods can cause an allergic reaction, peanuts, nuts, fish, and shellfish are well known for causing severe allergic reactions. 
Symptoms of a sever allergic reaction to food include:
Trouble breathing or swallowing
Swollen lips, tongue, or throat
Feeling weak, confused, or light-headed, or passing out
Chest pain or a weak, uneven heartbeat
If you suspect that you or someone you know is having an allergic reaction to food, especially a severe reaction, definitely seek medical attention immediately.