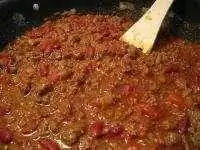 Caption: The finished gluten-free three bean buffalo chili. Photo--CC-mastermaq
In fall, I like to make up a big batch of this tasty buffalo chili for my guests. I like to serve it with big pieces of gluten-free corn bread with butter and lots of honey. This low-fat chili is easy to delicious, easy to throw together, and goes great with gluten-free beer.

Makes 8-10 servings 

Ingredients:


1 pound buffalo stew meat, cubed
1 pound ground buffalo
6 ounces dry black beans
6 ounces dry kidney beans
6 ounces dry pinto beans
2 teaspoons ground cumin
1 teaspoon ground cumin (for meat)
1 teaspoon ground cayenne pepper (for meat)
10 ounces diced tomatoes
1 small can chopped green chiles
2 (10.75 ounce) cans tomato sauce
¼ cup cream
1 large sweet onion, chopped
½ teaspoon minced garlic
1 Anaheim chile pepper, chopped
1 poblano chile pepper, chopped
1 tablespoons chili powder
1 teaspoon red pepper flakes
1 jalapeno pepper, seeded, minced
salt and pepper to taste
2 tablespoons olive oil
1 bottle (12 ounces) gluten-free beer


Directions:
Soak beans in water overnight. Drain and rinse.

Brown first the cubed buffalo meat, then the ground buffalo in a large skillet over medium heat. Make sure the cubed pieces are browned on all sides.

Once the meat is browned, season with 1 teaspoon cayenne pepper and 1 teaspoon cumin. Remove browned meat to a paper towel and set aside. Drain excess fat from skillet.

Add oil to skillet over medium low heat. Saute the onion and peppers for 3 minutes. Add buffalo meat. Stir briefly to mix, and remove from heat.

Transfer meat, onions and peppers to large soup pot, or a slow cooker. Stir in diced tomatoes, tomato sauce, tomatoes with green chiles, cream, kidney beans, black beans, onion, garlic, Anaheim chile pepper, poblano chile pepper, chili powder, red pepper flakes, black pepper, and salt. Add gluten-free beer, and enough water to cover the ingredients.

Note: For hotter chili, add jalapeno seeds.

Cover and cook on low heat overnight or 8 hours, stirring occasionally.