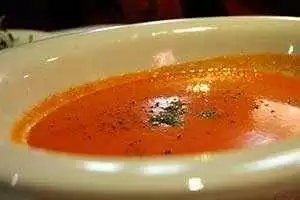 Caption: Photo: CC--stu_spivack
This tomato soup is loaded with veggies and is delicious sprinkled with Parmesan cheese.

Ingredients:
3-4 Tbsp. butter
2 medium onions, chopped
1/2 large carrot, chopped
1 tsp. minced garlic
2 28 oz. cans diced tomatoes, rinsed and drained
2 cups vegetable broth
1/4 cup uncooked gluten free quinoa, thoroughly rinsed
1 tsp. dried basil
1 tsp. dried oregano
1/3 cup fresh or frozen kale or spinach
1/2 to 2/3 cup milk
2/3 cup shredded fresh Parmesan
Directions:
Melt the butter in a large pan on medium heat. Add the onions, carrots, and garlic, and cook for about 5 minutes, until the onions and carrots are beginning to get tender.
Add the tomatoes, vegetable broth, quinoa, basil, and oregano. Simmer 10 minutes.
Turn the heat down to low, then add the kale or spinach. Cook another 2 or 3 minutes, stirring occasionally.
Add the milk, and simmer gently for about 5 minutes more.
Using an immersion blender, puree until smooth, or transfer the soup in batches to a blender. It can also be left chunky.
Ladle into bowls, and serve with the Parmesan.