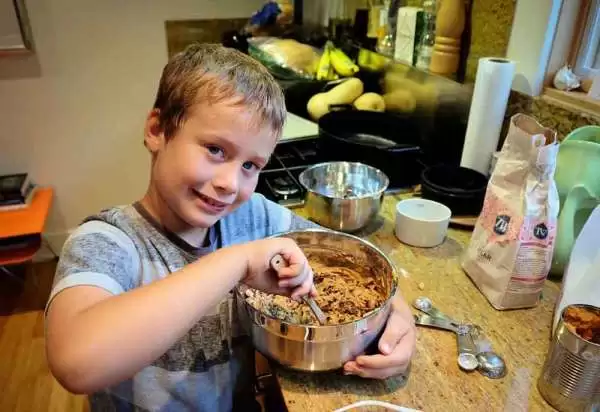 Caption: Image: CC BY-SA 2.0--Lars Plougmann
Celiac.com 08/07/2019 - A good gluten-free cookie can help take the sting out of having celiac disease or gluten-intolerance. Next to baked at home from scratch, a good, reliable gluten-free cookie dough can deliver that home-baked experience on demand, without the extra work.
Of course there are popular gluten-free cookie mixes, but we'll get to those another time. For now, we're going to concentrate on the top brands of gluten-free cookie dough.
---
Celiac.com Sponsor (A12):


---
---
Celiac.com Sponsor (A12-m):


---
These companies and brands are all labeled gluten-free, so you can serve them with confidence to any gluten-free cookie lover with celiac disease.
Top Brands of Gluten-Free Cookie Dough include:
B-Up
Chocolate Chip Cookie Dough 
Chocolate Chip Cookie Dough Mini Size
Davids Gluten Free
Chocolate Chip Cookie Dough
Oatmeal Raisin Cookie Dough
Snickerdoodle Cookie Dough
DOH!
Doh! Chocolate Chip Cookie Dough
Doh! Gourmet Cookie Dough
Doh! Oatmeal Raisin Cookie Dough
Doh! Peanut Butter Cookie Dough
Doh! Sugar Cookie Dough
EatPastry
Gluten Free Snickerdoodle Cookie Dough
Gluten Free Klippys
Chocolate Chip Cookie Dough
Chocolate Sea Salt Cookie Dough
Classic Chocolate Chip
Ginger Spice Cookie Dough
Old Fashion Oatmeal
Snickerdoodle Cookie Dough
Hail Merry
Chocolate Chip Cookie Dough Bites
Immaculate Baking
Gluten Free Chocolate Chunk Cookie Dough
Gluten Free Fudge Brownie Cookie Dough
Gluten Free Pb Cookie Dough
Gluten Free Chocolate Chunk Cookie Dough
Gluten Free Fudge Brownie Cookie Dough
Gluten Free Peanut Butter Cookie Dough
Gluten Free Sugar Cookie Mix
In Dey Go
Chocolate Macaroon Cookie Dough
Macaroon Cookie Dough
InclusilLife
Chocolate Chip Cookie Dough
Snickerdoodle Dough
La Weight Loss
Chocolate Chip Cookie Dough
Michaels Cookies
Gluten Free Chocolate Chocolate Chip Cookie Dough
Gluten Free Chunky Chocolate Cookie Dough
Gluten Free Chunky Chocolate Pecan Cookie Dough
Gluten Free Cinnamon Raisin Cookie Dough
Gluten Free Coconut Macaroon Cookie Dough
Gluten Free Snickerdoodle Cookie Dough
Gluten Free/Sugar Free Lemon Cookie Dough
Gluten Free/Sugar Free Maple Pecan Cookie Dough
Miche's Kitchen
Miche's Kitchen Chocolate Chip Cookie Doughs
Miche's Kitchen Coconut Lime Cookie Doughs
Miche's Kitchen Gingerful Cookie Doughs
Miche's Kitchen Green Sugar Cookie Doughs
Savory Foods
Coconut Pecan Cookie Dough
Cookies N Cream Cookie Dough
Oatmeal Raisin Cookie Dough
Peanut Butter Chocolate Chip Cookie Dough
Peanut Butter Cookie Dough
Sugar Cookie Dough
Simple Joys
Simple Joys Snicker Doodle Dough
Simple Joys Sugar Cookie Dough
Smart Flour Foods
Allergen Free Cinnamon Cookie Dough - Vegan
Allergen Free Cocoa Cookie Dough - Vegan
Allergen Free Lemon Cookie Dough - Vegan
Snickerdoodle Cookie Dough
Triple Chocolate Blast Cookie Dough
Sweet Ali's
Chocolate Chip Cookie Dough
Dfsf Sugar Cookie Dough Ball
Gingerbread Cookie Dough Ball
Mega Chocolate Chip Cookie Dough
Oatmeal Craisin Cookie Dough
Oatmeal Raisin Cookie Dough Dfsf
Peanut Butter Cookie Dough
Sugar Cookie Dough
Sweet Loren's
Gluten Free Chocolate Chunk Food Service Cookie Dough
Gluten Free Chocolate Chunk Place & Bake Cookie Dough
Gluten Free Fudgy Brownie Food Service Cookie Dough
Gluten Free Fudgy Brownie Place & Bake Cookie Dough
Gluten Free Sugar Food Service Cookie Dough
Gluten Free Sugar Place & Bake Cookie Dough
TRU Women
Wendel's True Foods
Cookie Dough, Almond
Cookie Dough, Almond Butter
Cookie Dough, Chocolate Chip
Cookie Dough, Ginger
Cookie Dough, Gingerbread
Cookie Dough, Peanut Butter
Cookie Dough, Shortbread
Cookie Dough, Sugar
WOW Baking
Chocolate Chip: Cookie Dough 
Ginger Molasses: Cookie Dough
Peanut Butter: Cookie Dough 
Sugar Cookie: Cookie Dough