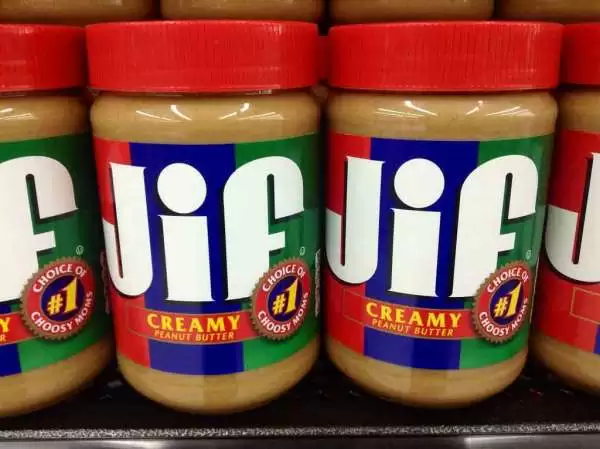 Caption: Image: CC BY 2.0--JeepersMedia
Celiac.com 10/13/2020 - Peanuts are naturally gluten-free, and so are most peanut butter brands, unless they've got added gluten ingredients. However, many brands do not label their peanut butter as gluten-free, and many unlabeled peanut butters may be made on equipment that processes wheat, rye or barley. That's not necessarily a big deal, but some people like to play it safe. 
These brands go the extra mile to make sure their peanut butters are labeled "Gluten-Free." That means that you can breath extra easy about serving them to people with celiac disease.
Top Gluten-Free Peanut Butter Brands (Ingredient Label Includes "Gluten-Free"):
---
Celiac.com Sponsor (A12):


---
---
Celiac.com Sponsor (A12-m):


---
Crazy Richard's
Crazy Richard's peanut butter contains just peanuts—with no added salt, oils, or sugars, and are are certified gluten-free.

Jif
Jif makes gluten-free and non-gluten-free products. Both are likely fine, but the gluten-free version is tested and certified gluten-free.

Justin's
Justin's makes a variety of flavored nut butter products, including classic peanut butter and honey peanut butter that are certified gluten-free by the Gluten-Free Certification Organization (GFCO).

Krema Nut Company
Krema is made by the same company that makes Crazy Richard's. Like Crazy Richard's, Krema's classic creamy or crunchy peanut butter is gluten-free.

MaraNatha 
Website confirms MaraNatha peanut butter contains only peanuts, and are certified gluten-free. 

PB Crave
All five flavors of PB Crave peanut butter are gluten-free: Honey and Sea Salt, Chocolate, Raspberry and White Fudge, Cookie Dough, and Banana. 

Reese's
Both the Creamy and Chocolate flavors of Reese's Peanut Butter Spread are gluten-free.

Santa Cruz Organic
Website's FAQ states that all Santa Cruz Peanut Butter contains only peanuts and salt, and is certified gluten-free. 

Skippy
According to the brand's FAQ, all varieties of Skippy peanut butter are gluten-free.

Smart Balance 
The Smart Balance peanut butter comes in creamy and chunky, both fortified with omega-3s and flaxseed oil. Smart Balance products are gluten-free, according to the brand FAQ.

Teddie
Teddie peanut butter comes in in old-fashioned, organic, homogenized, salt-free, and flaxseed varieties, and in creamy, chunky, and super-chunky textures. According to a company statement, all Teddie peanut butter is gluten-free.
Peanut Butter with No Gluten Ingredients (Not Labelled "Gluten-Free"):
Adams
Adams varieties are made with just peanuts and salt, except the no-stir peanut butter, which contains vegetable monoglycerides from palm oil, to prevent separation. According to the company, the products contain no gluten ingredients.
Goober
Goober products contain no gluten-containing ingredients.
Peter Pan
Peter Pan peanut butter comes in creamy, crunchy, whipped, natural, honey-roasted, and reduced-fat varieties. The company's FAQ states that: "All varieties of Peter Pan Peanut Butter are made without adding any potential gluten-containing ingredients such as wheat, rye, barley, and oats." Parent company Conagra states that any wheat or gluten ingredients will be declared as allergens on the label.
Smuckers
In addition to making Adams, Jif, and Goober products, Smuckers also sells natural and organic peanut butter under its own name. The J.M. Smucker Company states that it labels products "gluten-free" when the products test to fewer than 20 ppm gluten and it's been verified that the products ingredients don't contain gluten.