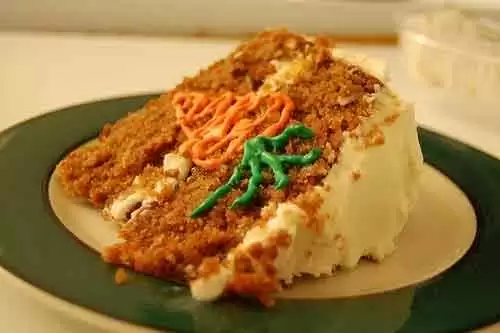 Caption: Gluten-Free Carrot Cake (photo courtesy of Stu_spivack)
The following gluten-free carrot cake recipe is truly a traditional cake. Full of some of the most common allergens like, dairy, eggs and nuts. I tend  to experiment  with new recipes by replacing ingredients I can't tolerate, with ingredients I can. For example, many recipes allow you to substitute eggs with applesauce. The nuts can be left out-for those allergic to nuts, and the cream cheese can be substituted for dairy-free cream cheese. When substituting however, ratios will be different and it is a good idea to know what ratio of applesauce (for example) equals 4 eggs. Ratio quantities will also greatly depend on your taste buds, but if this recipe is okay for your diet, dig in and enjoy!
Cake Ingredients:

1 cup pecans - toasted and finely chopped
2 ½  cups carrots - finely grated
2 cups gluten-free all purpose flour
1 tsp. baking soda
1 ½ tsp. baking powder
2/3  tsp. salt - finely ground
1 ½ tsp. cinnamon
4 large eggs - room temp
1 ½ cups granulated sugar
1 cup vegetable or canola oil
2 tsp. vanilla
Cream Cheese Frosting Ingredients:
1/4 cup unsalted butter - room temperature
8 ounces cream cheese - room temp
2 cups powdered sugar
1 tsp. vanilla
1 lemon - finely grated lemon zest only

To Make:
Start by toasting the pecans in the oven  at 350 degree F  for 6-8 minutes. Remove from the oven, allow to cool and chop finely. Next, finely shred 2 ½ cups of carrots. Finally, combine the gluten-free flour, baking soda, baking powder, salt, and cinnamon in a bowl, set aside.
Beat the 4 eggs on medium speed for about 1 minute, reduce the speed and slowly pour in the granulated sugar. Once the sugar and eggs are combined (about 3-4 minutes) slowly pour in the oil and vanilla. Next, add the flour mixture and beat just until combined. Finally, use a spatula to fold in the carrots and toasted pecans.
Divide the batter between two well greased 9 inch round cake pans. Bake at 350 F for 25-30 minutes. Cool in the pan for 10 minutes before inverting onto a cooling rack.
Baking Directions:
Divide batter between 2 well greased 9 inch round cake pans. Bake at 350 degrees F for25-30 minutes.
Allow to cool in the pan for 10 minutes before inverting onto a cooling rack.
* Note: This cake can also be made into a single layer 9x13 cake, simply increase baking time to 30-40 minutes.
While the cake is cooling, beat together the butter and cream cheese.
Next, add the powdered sugar, vanilla, and lemon zest. Beat until thoroughly combined.
Place one layer of cake on a platter, spread an even layer of frosting on top of the cake.
Add the second layer of cake.
Use the remaining frosting to cover the top and sides of the cake. 



*Idea:

Use remaining or extra pecans to decorate the outside of the cake.
---
Celiac.com Sponsor (A12):


---
---
Celiac.com Sponsor (A12-m):


---