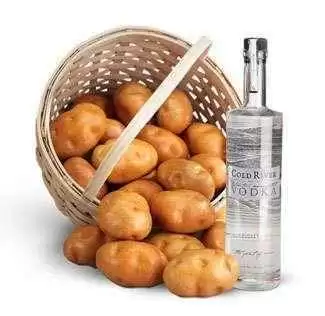 Caption: Photo courtesy of Maine Distilleries.
Celiac.com 06/27/2011 - In order to protect the propriety of their products, distilleries can be reluctant to disclose process details. Yet their disclosure is crucial for those of us who are unable to consume gluten.  Recently, I investigated a potato vodka and gin distillery in Freeport, Maine where this is not the case.
Don Thibodeau, president of Green Thumb Farms, launched Maine Distilleries in 2004 with his brother, Lee Thibodeau, and managing partners, Bob Harkins, director of sales and marketing, and Chris Dowe, head distiller.  Maine Distilleries is dedicated to the production of three spirits that are sold under its Cold River label.
---
Celiac.com Sponsor (A12):


---
---
Celiac.com Sponsor (A12-m):


---
Green Thumb Farms, a 2,000-acre family-owned farm located in Fryeburg, Maine, produces potatoes, beans, and corn in the alluvial soils of the Cold River.  I started my visit there with Don.  The farm's clients include Frito-Lay and super market chains Whole Foods Market and Shaws.  For as long as they can remember, Don and Lee had discussed vodka production as a potential use for the farm's off-grade, cull potatoes which are too small, too big or too blemished to sell.

"If the potatoes are not beautiful," explained Don, "they don't go into the bag."  Nowadays, customers also look for clean potatoes.  In years past, potatoes were bagged dirty, because they stay fresher that way.

The cleaning and sorting of potatoes is a complex process involving several pieces of equipment including one called an "Odenburg."  An Odenburg is an automatic grader with beams of light, or electronic eyes, that sense variations in color - and sorts potatoes accordingly.  Yes, customers are even selective about color.

As production increases at the distillery, Maine Distilleries will look beyond Green Thumb Farms for cull potatoes, which is really good news for the potato farmers of Maine.  According to the Maine Department of Agriculture, Food and Rural Resources, Maine ranks eighth in the country in the production of potatoes.

At Maine Distilleries, a small, copper pot "still" stood out from the rest of the equipment.  It belonged to Don's and Lee's late father, Larry, a third-generation Presque Island area potato farmer.  Don and Lee grew up listening to stories their father told of making potato vodka during the prohibition period.  Many of the local potato farmers in years past had stills just like this one.

Larry's old copper pot was small enough to fit in the back seat of my car.  As I began my tour, I couldn't help but wonder what Larry might think of Maine Distilleries' very large, copper pot still.  The still's enrichment column is two stories high.

Assistant distiller, Ben Francis, gave me a tour of the facility and its five processes, which are mashing, fermentation, distillation, blending and bottling.  We began at the mashing kettle.  Potatoes are conveyed (on a belt) to the mashing kettle from a nearby storage area.  Mashing breaks the potatoes' starches down into sugars, which takes approximately 12 hours.

The resulting mash, also called "potato soup," is discharged through piping to fermentation kettles.  Yeast is added to the potato soup in the fermentation kettles, and consumes the sugar, producing ethanol.  Fermentation takes one to two days, according to Chris Dowe, the head distiller, and the yeast is kosher and naturally gluten free.

The resulting "potato wine" is about 9 percent ethanol.  Water and solids make up the remaining volume.  The potato wine is discharged through piping from the fermentation kettles into holding tanks in the distillation room.  Each batch is distilled three times in the copper bottom still in order to separate the ethanol from the water and the solids.  After the first distillation, the ethanol is approximately 50 percent; after the second distillation, 95 percent; and after the third distillation, 96 percent.  Boiling point is crucial to the success of distillation.

The enrichment column extending from the copper pot still is kept cooler at the base in order to prohibit the water and the solids from vaporizing and traveling up along the column with the ethanol, which has a much lower boiling point.

Most large commercial distilleries use continuous, stainless steel stills.   But distilled spirits experts claim that hand-crafted spirits that are produced in small batches in copper stills are superior to continuous, stainless steel methods.  Maine Distilleries' copper pot still was itself hand-crafted in Stuttgart, Germany.  Stuttgart is known for its custom copper fabricators as well as this particular copper pot still design.

After the third distillation, the resulting ethanol is blended with deionized spring water to produce Cold River's vodka.  The spring water originates from the Cold River/Saco Valley aquifer at Green Thumb Farms.  Some manufacturers add compounds (such as glycerol) to improve the smoothness or taste of a vodka; such is not the case here.  Maine Distilleries has been selling Cold River's classic vodka since 2005.

In 2009, Maine Distilleries launched its second product, Cold River's blueberry-flavored vodka.  It was a logical choice, explained Ben, because Maine is the world's largest producer of blueberries.  Maine Distilleries uses low-bush, wild blueberries from Jasper Wyman & Son, of Milbridge, Maine,  a family-owned enterprise that is known as the leading U.S. grower, packer, and marketer of wild blueberries.

To make blueberry-flavored vodka, Maine Distilleries infuses macerated blueberries in its classic vodka.  After several days of infusing, the ethanol is drawn off and blended with the deionized spring water and a small amount of cane sugar.  No artificial flavors or aromas are added to this product.

In August 2010, Maine Distilleries launched its third product, Cold River's gin.  Botanicals are added to the classic vodka to make the gin.  The botanical blend, which dates back to the early days of British gin, contains juniper berries, coriander, lemon peel, orange peel, orris root, angelica root, and cardamom.  After the botanicals are added to the classic vodka, it is distilled for a fourth time and then blended with the deionized spring water to produce Cold River's gin.

Alcohol beverage labeling is regulated by the Alcohol and Tobacco Tax and Trade Bureau of the U.S. Treasury.  Under the Bureau's current labeling regulations, Maine Distilleries is not permitted to print "gluten-free product" on its bottles.  Since the passage of the U.S. Food Allergen Labeling and Consumer Protection Act in 2004, the Bureau has promised to finalize and implement labeling regulations that would require allergen statements on all bottles.  Three million people with celiac disease and another 18 million with gluten sensitivity have been eagerly awaiting the final approval of these long overdue regulations.

Cold River's classic vodka has acquired an impressive number of awards for such a new product.  In September 2007, it earned a Five-Star Premium Recommendation from Spirits Journal. In 2008, it was named to Wine Enthusiast's prestigious list of "Top 50 Spirits," and earned the magazine's sole "Classic (96-100) / Highest Recommendation" rating for 2008.  It went on to earn Double Gold at San Francisco's 2008 World Spirits Competition, and was featured as "The Best American Vodka" in spirits expert F. Paul Pacult's Kindred Spirits 2.

Are Cold River's vodkas and gin gluten free?  Until the new regulations are finalized, it's tough to say.  Meanwhile, disclosure at Maine Distilleries is as clear as the Cold River.

FOR MORE INFORMATION:

Green Thumb Farms
http://greenthumbfarms.com

Maine Distilleries
http://www.mainedistilleries.com

Gluten Free Dietician - Labeling of Alcohol
http://www.glutenfreedietitian.com/newsletter/2011/01/18/gluten-free-labeling-of-alcohol/

Note:  Alcohol beverage labeling for gluten free beer; or, wine and cider containing less than 7 percent alcohol (by volume), is regulated by the Food & Drug Administration.