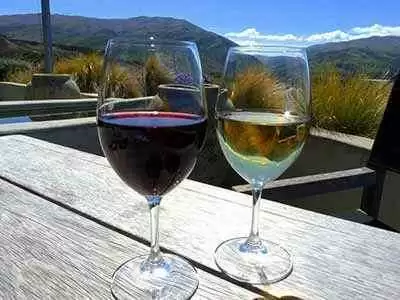 Caption: Photo: CC--megoizzy
Celiac.com 04/16/2013 - For a celiac traveler from the United States, New Zealand is a pleasure. Gluten awareness is widespread, there are gluten-free food options virtually everywhere you go, and product labeling for allergens and gluten is typical. Because New Zealand is English-speaking, there is no problem communicating gluten-free needs. And, of course, it's summer there when it's winter here and it's beautiful. Who could ask for anything more (other than a shorter plane flight)?
When my husband and I were planning an extended trip in 2009, I decided that traveling gluten-free would be easier in NZ than in the other destinations that we considered: Bali and Thailand. While Southeast Asian cuisines are rice-based and do include many gluten-free foods, conversations with friends who have lived there made me hesitate. The main problem for us is that we travel mostly on bicycle and like to be away from the major tourist areas. While staff at tourist hotels and luxury resorts may be familiar with food intolerance, once you go off the beaten track, people are unused to accommodating the "odd" requests of foreigners. I knew that in Southeast Asia language barriers would be an issue. My friends warned that the idea of food allergies and intolerance is not well-known there and they thought, too, that cultural conventions of politeness might lead people to assure us that foods were safely gluten-free when, in fact, they were not. On the other hand, my son had spent a week in New Zealand and his scouting report read: "gluten-free products, including bread and crackers, are easy to find even in the smallest convenience stores."  
---
Celiac.com Sponsor (A12):


---
---
Celiac.com Sponsor (A12-m):


---
We bicycled in New Zealand again in 2012, and once more we spent two months there. Now, I have suggestions and experiences to report from both North and South Islands.

First, it's always good to do some homework.  Before leaving and also while In New Zealand, I suggest  cruising the Internet for information. A useful site is http://www.glutenfreeliving.co.nz/ which displays restaurant and retail store options for various locations. The information is not always up to date (restaurants may close or change hands), but "no worries, mate," as they say. Other gluten-free options are almost always easy to find.

If you are traveling on New Zealand Air, be sure to order gluten-free meal options on your trans-Pacific flights. In 2009, I had some concern when I saw the term "low-gluten" in the subject line rather than "no-gluten" or "gluten-free" when customer service replied to my e-mail, but that may have been a legal precaution on their part. In addition to requesting gluten-free meals well in advance, be sure to double-check at the airline counter to make sure that the requests are in the system. I found the food entirely acceptable (and a choice of 77 in-flight movies also helped pass the time…). In fact, on the most recent flight there was an unexpected benefit to being gluten-free: special meals are the first to be served. While the flight attendant was handing my tray to me, the plane hit turbulent air. Meal service was instantly suspended and as far as I could tell I was the only passenger who got to eat for the next hour. Of course, I always take the precaution of carrying some gluten-free food/snacks, as well. You never know when you might need them.

Actually, I did need them on the 2012 trip – but ironically that was when I couldn't have them! We had decided to layover for a few days in Fiji to break up the long flight. I anticipated (correctly) that there would be little gluten-awareness in Fiji, so I was traveling with plentiful supplies. But I was dismayed to find that arriving passengers were required to discard all food items, without exception, at the airport. That made the next five days in Fiji a little challenging. I relied on cooking locally available basic resources that I bought in public markets, such as eggs, vegetables, coconut, fish, meat and yams. It was hard to find food that I was sure would be safe in grocery stores and almost impossible in restaurants.

Because I am a budget traveler, and because I want good control over what I eat, I do prefer to buy and cook my own food in any case. In New Zealand, food items tend to be clearly labeled, much better than they are in the US. All of the larger supermarkets, such as New World, Pack n' Save, Woolworth's (locally known as "Woolli's"), and Countdown have gluten-free breads of various sorts, as well as rice crackers, sweets, and an array of pre-packaged items such as soups, risotto, and curries that may be labeled gluten-free. However, there are always hidden surprises; for example, it was hard to find hummus that did not indicate the possible presence of wheat in the chickpeas (only Lisa's Organic hummus was gluten-free). The ubiquitous smaller grocery outlets, such as dairies (the equivalent of convenience stores) might or might not have much in the way of gluten-free foods. Traveling by bicycle in more remote areas, such as heading towards East Cape from Opotiki, stores were sometimes far apart and minimally stocked. I occasionally found myself with nothing to eat for lunch but tinned salmon or sardines. Anyone traveling in a car could easily avoid such a situation, though.

As might be expected, health food and organic food stores typically have a selection of gluten-free food items including bread, snacks, baked goods, pasta and alternative grains. Sometimes they carry gluten-free meat pies and other entrees in the freezer case. They tend to have easily identifiable names, such as Homestead Health, Bin Inn Wholefoods, Commonsense Organics (which carries, among others, Breadman brand fresh baked breads), etc. Always use your own commonsense, though. I did see occasional red flags, such as purportedly gluten-free baked goods unwrapped and sitting in a display case next to other goods baked with wheat flour. In those situations, I politely say that I would like to buy certain items but cannot do so if there's a chance of gluten contamination. Also, I tell them that I worry that if this is an issue in one part of the store, I can't be sure about other items they carry. They usually listen carefully to requests that might improve their sales.

Having stocked upon gluten-free items at a shop in Auckland before a long train trip on the Tranz Scenic to Wellington, I discovered that I would have done fine without that precaution. The canteen on the train featured a line of prepackaged meals under the Wishbone label, all of which were very visibly marked for dietary restrictions including dairy free, gluten free, no meat, low fat, and low glycemic index. I enjoyed the "butter chicken"(tandoori spiced chicken with rice and sliced almonds) for lunch and saved my gluten-free groceries for dinner. On the other hand, when traveling by bus over long distances, I found it necessary to carry my own food. Meal stops on the bus routes were rarely more than ½ hour, and generally restricted one's choice to a single café or cafeteria-style restaurant that did not have much for the gluten-free traveler.

We stayed mostly in "backpackers," hostels that have kitchen facilities. They are found everywhere. One tip is to pick backpackers that have high ratings in the BBH New Zealand backpackers network guide. These will be the cleanest and best-organized places. The more highly rated hostels will cost more (it's okay – they are worth more), but you will save a bit with a BBH membership. Backpacker accommodations range from dormitory-like arrangements to private rooms with bath. They may be large and full of boisterous young people, or small and quiet. With small places, you may have the kitchen almost completely to yourself. In the communal kitchen and eating area there will be a varying selection of cookware, utensils, and dishware. We carry camping gear including a thin plastic cutting board, a nesting pot set, lightweight cups, bowls and utensils, and plastic storage containers labeled with our name. I often used our own cooking pots and plates in backpacker hostels since hostel guests do not always do the best job of cleaning up their dishes. If I did use communal pans or utensils, I washed them thoroughly beforehand, using something other than a possibly contaminated communal sponge or dishrag. It is a good idea to cook and eat outside of the most crowded mealtimes, particularly at large, popular hostels. Otherwise, the atmosphere of "combat cooking" may defeat your efforts to keep gluten off surfaces and people may assume that your newly washed pot is there for them to use.  But it is wonderfully convenient to be able to cook your own food and refrigerate your groceries and leftovers. You need to bag your food, clearly label it with name and date, and make sure that it is sufficiently protected to prevent contamination from other people's food in a stuffed refrigerator.

A lot of restaurants and cafés throughout New Zealand offer gluten-free menus or menu options. While you need to be prepared for this not to be true in the more remote areas, even there you will often have pleasant surprises. I do recommend that you advise the waitperson that you are celiac.  If they look at you blankly, say that this requires that you be very strictly gluten-free. If they still look blank, go somewhere else to eat. In a properly gluten-free-conscious place, the staff will confirm with the chef that your menu choice is safe and note the need for special care on your order. I had one worrisome experience after eating at an Indonesian restaurant in Napier. The Dutch owner seemed very knowledgeable about celiac and told me exactly what I could have, including sauces. Afterwards, as we were paying for the meal, I saw that some of the bottled sauces were for sale. I read the label on one and it clearly contained wheat. The owner was mortified and assured me that these were from older stock and that the sauces I was actually served were gluten-free. Life as a celiac is never risk-free – but since I had no reaction later, I can hope he was right.

The bottom line is that New Zealand really is a great destination for the gluten-free traveler.