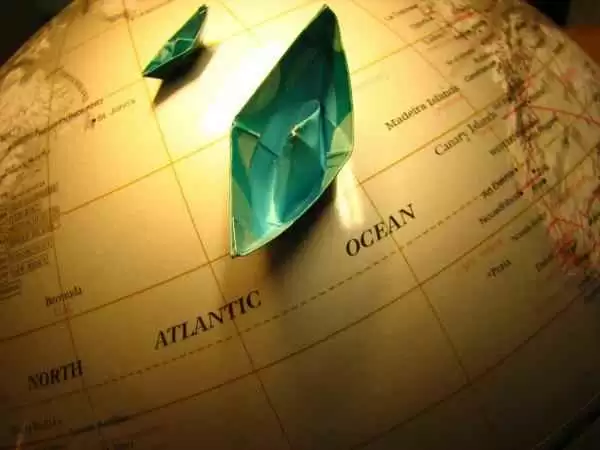 Caption: Image: CC--fdecomite
Celiac.com 07/27/2018 - As we all know, traveling either on driving vacations or internationally presents challenges to those of us with celiac disease.  We normally pack enormous amounts of baked goods and look somewhat silly as we travel.  I believe however that with a little research, we can now cut down on our extra "baggage".
When we travel in Michigan, the first thing I do is Google "gluten free groceries".  With some luck, I usually find a local specialty market with some gluten free items.  This is followed by an email with specific requests such as bread, baked goods, etc.  The markets are more than willing to share this information, and I can pack my food supply accordingly.  
---
Celiac.com Sponsor (A12):


---
---
Celiac.com Sponsor (A12-m):


---
I then follow up with a Google search for "gluten free restaurants".  Again, I normally get a few responses and I look at the menu section of their websites to verify the selection.

I was very impressed with a recent trip to Marquette Michigan in the Upper Peninsula.  Since Marquette is in the very northern section of Michigan, I was worried about finding a gluten-free groceries, much less gluten-savvy restaurants.

Was I in for a surprise!  They had bakeries, groceries (Marquette Food Co-op) as well as a number of excellent restaurants that had gluten free selections. I was in heaven. Besides being in one of the most beautiful cities in Michigan, I could actually go out and have a wonderful, gluten free dinner.  Be sure to check out the Lagniappe Cajun Grille, the Border Grill, Sweetwater Café and Aubrees Pizza. All have exceptional food.

I was curious as to why the restaurants were so up to date on celiac disease so I asked at a local bar / grill.

The answer is Northern Michigan University. It seems that cities with universities are more aware of the needs of folks who want to remain gluten free.  Some of the residents have made this choice either out of necessity after being diagnosed with celiac disease or as a healthy life choice. With this in mind, it may be beneficial when travelling to look for cities close to colleges and universities for groceries and restaurants.  

Now let's look at international travel.  Since retiring three years ago, my wife and I plan on one big trip every year. We usually alternate between cruises and land-based trips.  We have seen a dramatic increase in gluten free accommodations on board ship.  Our cruise line of choice has been Princess although I suspect other lines have similar menus. Princess gave me the next night's menu so I could order in advance.  They would prepare what I wanted, gluten free.  As a bonus, the chef would prepare a surprise dessert every evening for me.  This is what keeps me coming back to Princess.

We recently took a cruise to Norway and again, were curious about what kind of gluten free restaurants would be available in port.  I emailed the Norwegian Youth Celiac League and received a mountain of information.  I got bakeries, restaurants, alcoholic beverages with addresses and phone numbers so I could visit these places.  They were so helpful and made the trip that much more enjoyable.

We had a funny experience on a trip to Peru a few years ago.  We had just returned from Machu Picchu and stopped at a local restaurant for a snack. I had ordered chips and guacamole and since there was so much corn farmed there, assumed they would have corn chips.  Wrong!!!  I received a plate of chips that resembled a fried, flour tortilla chip.  I gave the waiter my "I have celiac disease, please don't make me sick " card which he read and took to the restaurant owner.  He looked horrified and asked if I liked French fries. I indicated I like fries as long as precautions were taken.  He returned with a grin on his face along with a huge glob of guacamole with these enormous fries stuck in the glob.  Not wanting to offend our host, I ate the somewhat interesting mix and enjoyed every bite.

Whenever traveling internationally, always carry a dozen or so of these cards to give to waiters. They are available free at celiactravel.com  in all languages.

Most will go out of their way to accommodate your diet restrictions.  I think the implied message of these cards is that "If you feed me anything with gluten, I will get horribly sick on the floor and scare away your customers". It has an enormous impact.

My final thought is that allowing celiac disease to control your leisure time is not necessary.  A little research and a few emails can save you a tremendous amount of aggravation when planning a vacation.

As more and more vacations destinations become aware of the needs of celiac patients, I believe traveling will become more enjoyable. One final note, always compliment the restaurant owner on having a gluten free menu. It will encourage both that establishment as well as others to follow suit.

Bon Appetit!