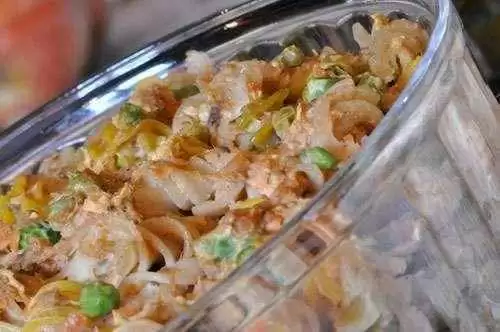 Caption: A beautiful gluten-free tuna casserole!
Like any casserole, this one is flexible. I've given you a good guideline for correct proportions, but add more or less salmon or tuna; more or less pasta; more or less peas – you get the picture. It will work and be delicious, regardless.
Lately I've been using canned salmon instead of tuna in this traditional recipe – Costco even carries wild Alaskan Sockeye Salmon (boneless) in the can, which boasts 410mg Omega 3s per serving! So this casserole is not only delicious, but it's a deliciously healthy one-dish meal the whole family will enjoy! Obviously, if you have leftover grilled salmon from the night before, it goes without saying (though I'll say it anyway, just in case!) that re-purposing those leftovers in this casserole would be the very best option!
---
Celiac.com Sponsor (A12):


---
---
Celiac.com Sponsor (A12-m):


---
I've also experimented with every dairy-free cheese and soup out there, and I can say with every confidence that the dairy in traditional casseroles like this one will not be missed if you choose to use my dairy-free suggestions.

Enjoy this super easy casserole today, and love this casserole tomorrow for leftovers!

Ingredients:

16 ounces gluten-free pasta spirals or penne (Le Veneziane Corn Penne; Tinkyáda Brown Rice Pasta Spirals; Ancient Harvest Corn-Quinoa Pagodas) – use more or less depending on whether you like your casseroles more "noodley"
32 ounces cream of mushroom soup (Imagine Creamy Portobello Mushroom Soup is dairy- and gluten-free) 
29-32 ounces canned tuna or salmon, drained (be sure to remove bones if your brand contains bones)
16 ounces frozen or canned peas
7-8 ounces cheddar dairy or non-dairy cheese (Daiya Cheddar Style Shreds or Galaxy Nutritional Foods Veggie or Rice Shreds)

Directions:
Prepare noodles according to package directions. Drain and set aside. If using frozen peas, prepare according to package directions; if using canned peas, drain.
Preheat oven to 350° F.
In a large bowl, stir together soup, tuna or salmon, peas and cheese. Add drained pasta and stir to combine. Pour into a 2-quart casserole. Bake for 30 minutes, or until bubbly.