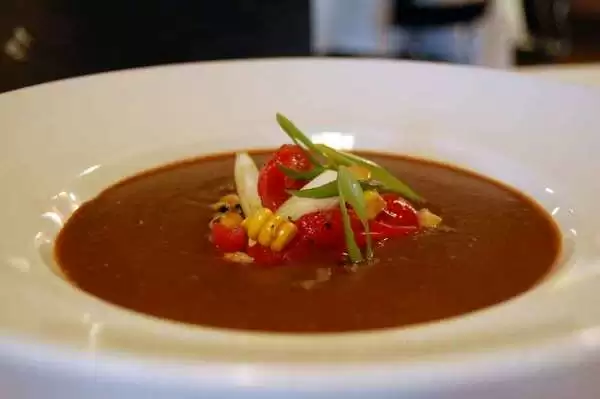 Caption: Black bean soup. Image: CC BY-SA 2.0--stu_spivack
Celiac.com 10/10/2019 - In the past, and even today, many commercial soups and stews have routinely been made with gluten ingredients. Finding good gluten-free soups can be a challenge.
Just in time for fall, here are twenty-six of America's top gluten-free soup brands. These brands of soup are labeled "Gluten Free." That means that you can breath extra easy about serving them to people with celiac disease. Do you have a favorite brand of gluten-free soup that we might have missed? Share it below in the comments.
Abundant Life Foods
Soup Mix - Butternut Squash
Soup Mix - Cream Of Asparagus
Soup Mix - Cream Of Broccoli
Soup Mix - Cream Of Chicken Vegetable
Soup Mix - Cream Of Mushroom
Soup Mix - Cream Of Tomato Basil
Soup Mix - Potato Leek
Augason Farms
Af Soup Butternut squash
Af Soup Cheddar broccoli
Af Soup Corn chowder
Af Soup Red bell pepper 
Chili Cheesy Enchilada Soup Mix
gluten-free Creamy Potato Soup Mix
gluten-free Soup Creamy Potato
Soup Chili
Soup Cream Of Chicken
Soup Vegetable Stew 
Back to Nature
Chicken Quinoa Tortilla Soup
Smoky Chipotle Chili Soup
Tuscan 3 Bean Soup
Blount
Fresh Coconut Lentil Soup
Fresh Vegetarian Chili 6/16Oz
Fresh Chicken Tortilla Soup
Fresh Broccoli Cheddar Soup
 Fresh Organic Tomato Bisque
Boulder Organic!
Autumn Squash Soup
Bacon Potato Corn Chowder
Broccoli Cheddar
Butternut Squash Soup With Sage
Carrot Ginger Soup With Coconut
Chicken Noodle Soup
Chicken Quinoa & Kale Soup
Chicken Vegetable Chili
Creamy Tomato Bisque
Cuban Black Bean Soup
Garden Minestrone
Garden Minestrone Soup
Garden Vegetable
Golden Quinoa & Kale
Golden Quinoa And Kale Soup
Green Chile Chicken Soup
Green Chile Corn Chowder
Green Pea Soup With Dill
Green Pea With Dill
Minestrone Soup
Organic Pizza Sauce
Potato And Corn Chowder
Potato Leek
Potato Leek Soup
Red Lentil Dahl
Red Lentil Dahl Soup
Roasted Tomato Basil
Roasted Tomato Basil Soup
Soy Ginger With Shiitake
Summer Gazpacho
Tomato Bisque
Tuscan White Bean
Tuscan White Bean Soup
Vegan Tomato Basil
Vegan Tomato Basil Soup
Vegetable Chili
Brooke and Bradford
Chili Soup
Fajita Steak Soup 
Vegetable Chili Soup
Cuisine Sante
Sweet Corn Soup
Tomato Soup 
Dr. McDougall's Right Foods
Black Bean & Lime Soup Cup
Black Bean Soup
Chili Bean Soup
Chunky Tomato Rts Soup
Garlic Vegetable Asian Soup Cup
Hot & Spicy Asian Soup Cup
Lentil Soup
Lower Sodium Lentil Soup
Lower Sodium Split Pea Cup
Organic Butternut Azteca Soup
Organic French Lentil Soup
Organic Lentil Vegetable Rts Soup
Organic Lower Sodium Black Bean Soup
Organic Lower Sodium French Lentil Soup
Organic Lower Sodium Split Pea Soup
Organic Lower Sodium Tomato Soup
Organic Lower Sodium Vegetable Soup
Organic Minestrone Soup
Organic Split Pea Soup
Organic Tortilla Soup
Pad Thai Noodle Soup Cup
Roasted Pepper Tomato Soup
Sesame Chicken Asian Soup Cup
Split Pea Soup
Split Pea Soup Cup
Spring Onion Noodle Soup Cup
Thai Tom Yum Asian Soup Cup
Tortilla Soup Cup
Vegetable Soup
Explore Cuisine
Gluten Free Soybean Noodle Soup Beef Flavor 
Gluten Free Soybean Noodle Soup Chicken Flavor
Gluten Free Soybean Noodle Soup Vegetable Flavor
Farm and Kettle
Organic Chicken & Vegetable Soup
Organic Chicken Bone Broth
Organic Harissa Chickpea & Chicken Soup
Organic Tomato Cheddar Soup
Gluten Free Café
Beef Noodle Soup
Black Bean Soup
Chicken Noodle Soup
Cream Of Mushroom Soup
Veggie Noodle Soup
Health Valley
40% Less Sodium 14 Garden Vegetable Soup
Cream Of Chicken Soup
Cream Of Mushroom Soup
No Salt Added Black Bean Soup
No Salt Added Chicken Rice Soup
No Salt Added Split Pea Soup
No Salt Added Tomato Soup
No Salt Added Vegetable Soup
HIKARI MISO
Hikari 3 Year Aged Miso Kiwami
Hikari Miso gluten-free Vegetarian Miso Soup
Hikari Organic 3 Year Aged Miso
M1Nute Miso Organic Deep Umami
M1Nute Miso Organic Original
Organic Miso Brown Rice Miso
Organic Miso Dashi Miso
Organic Miso Hikari Haccho
Organic Miso Mild Sodium
Organic Miso Red Type
Organic Miso Saikyo Sweet Miso
Organic Miso White Type
Organic Ramen Soup Base
Kettle and Fire
Beef Bone Broth
Chicken And Mushroom Bone Broth
Chicken Bone Broth
Coconut Butternut Bisque
Creamy Tomato
Miso Soup
Kettle Cuisine 
Black Bean Soup
Broccoli Cheddar Soup
Butternut & Chickpea Stew
Carrot Ginger Soup
Chicken & Corn Chowder
Chicken Tortilla Soup
Chicken Vegetable With Rice
Chipotle Sweet Potato Soup
Classic Gazpacho
Coconut Curry Chicken
Corn Chowder
French Onion
Heartland Chili With Beans
Jalapeno Tomatillo Gazpacho
Loaded Potato Soup
Manhattan Clam Chowder
Maryland Vegetable Crab
Mediterranian Grilled Eggplant & Zucchini
Miso Broth
New England Clam Cowder
Organic Carrot Ginger Coconut Soup
Organic Carrot Ginger Soup
Organic Chicken & Quinoa Soup
Organic Chicken Spinach & Quinoa Soup
Organic Spicy Tomato Garlic Soup
Organic Split Pea And Kale Soup
Organic Three Bean Chili
Organic Tomato Basil Soup
Organic Tomato Soup
Organic Tomato With Garden Vegetable
Organic Tuscan-Style Chickpea Soup
Pho Broth
Portuguese Kale With Linguica
Potato & Leek
Quinoa & Shrimp Chowder
Quinoa Sweet Potato Chili With Black Beans
Roasted Corn & Poblano
Roasted Red Pepper & Gouda Bisque
Roasted Vegetable
Spiced Pumpkin Bisque
Split Pea With Ham
Thai Chicken With Red Curry
Three Bean Chili
Tomato Basil Soup
Tomato Bisque
Tomato Feta Soup
Tomato Soup With Garden Vegetables
Tomato With Rice
Traditional Lobster Bisque
Turkey Chili With Beans
Vegetable Soup With Sweet Basil
Metagenics
Healthy Transformation Vegetable Soup 
Healthy Transformation Vegetable Soup Powder
Ketogenic Soup Savory Chicken Flavor
Miso to Go
Instant Freeze Dried Miso Soup (Bold Red Miso)
Organic Instant, Freeze Dried Miso
Soup (Classic White Miso)
Namaste Foods
gluten-free Broccoli Cheddar Flavored Soup
gluten-free Chicken Noodle Flavored Soup
gluten-free Hearty Vegetable Flavored Soup
Nona Lim
All Bean Chili 
Asian Lemongrass Soup 
Bulk Ginseng Chicken Bone Broth 
Bulk Shiitake Beef Bone Broth 
Bulk Turmeric Chicken Bone Broth 
Carrot Ginger Soup 
Celery Root Soup 
Chicken Pho Noodle Bowl
Chicken Turmeric Bone Broth
French Onion Soup 
Ginseng Chicken Bone Broth
Green Curry Noodle Bowl
Laksa Noodles 
Pad See Ew Noodles 
Pad Thai Noodles 
Potato And Kale Soup 
Red Lentil Veggie Soup 
Shiitake Beef Bone Broth
Spicy Rice Soup 
Spicy Sze Chuan Broth 
Thai Coconut Lime Noodle Bowl
Thai Curry & Lime Broth 
Thai Green Curry
Tomato Basil Soup 
Tomato Soup
Vietnamese Pho Broth
Zucchini Soup
O Organics
Organic Beef Broth
Organic Butternut Squash Soup
Organic Chicken Broth
Organic Lentil Soup
Organic Low Sodium Chicken Broth
Organic Southwest Black Bean Soup
Organic Tomato & Basil Soup
Organic Vegetable Broth
Organicville
Organic Miso Ramen Soup
Organic Red Miso
Organic Red Miso Soup
Organic Saikyo Sweet Miso
Organic White Miso Soup
Progresso
Traditional New England Clam Chowder
Traditional Chicken & Wild Rice
Rich & Hearty New England Clam Chowder
Vegetable Classics Lentil
Traditional Chicken Rice with Vegetables
Rich & Hearty Beef Pot Roast with Country Vegetables
Traditional Split Pea with Ham
Light New England Clam Chowder
Rich & Hearty Chicken Corn Chowder Flavored with Bacon
Vegetable Classics Garden Vegetable
Traditional Manhattan Clam Chowder
Rich & Hearty Broccoli Cheese with Bacon
Vegetable Classics Lentil with Roasted Vegetables
Vegetable Classics French Onion
Vegetable Classics Tomato & Roasted Red Pepper
Vegetable Classics Creamy Mushroom
Reduced Sodium Southwest Style Black Bean & Vegetable
Rich & Hearty Slow Cooked Vegetable Beef
Rich & Hearty Steak & Vegetables
Rich & Hearty Steak & Roasted Russet Potatoes
Traditional Chicken Tortilla
Traditional Chicken Cheese Enchilada
Traditional Butternut Squash
Traditional Beef & Vegetable
Traditional Potato, Broccoli & Cheese Chowder
Sacratomato Bisque 
Raley's
Organic Coconut Lentil
Organic Farmers Market Vegetable Gazpacho
Thai Chicken
Chicken Tortilla Soup
Sacratomato Bisque
San-J International
Wakame Soup
White Miso Soup
Whole Foods Market
Chicken & Rice Soup
Chicken Tortilla Soup
Coconut Vegetable Soup
Corn Chowder
Creamy Butternut Squash And Cardamom Soup
Mom`s Chicken Soup
Split Pea Soup
Three Bean Chili
Traditional Lobster Bisque
White Bean & Kale Soup
White Chicken Chili With Beans
Wild Stock
Broccoli Cheddar
Ground Beef Chili With Beans
Hearty Potato Soup