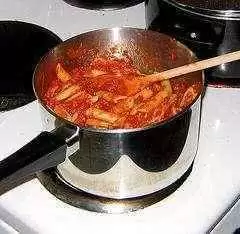 Caption: The finished veal pasta. Photo: CC/signal11
Veal Sauce with Rice Pasta is a fast easy meal for those nightswhen you have no idea what to make and don't have much time.

Ingredients
One pound of ground Veal
One pound of rice pasta  I prefer Penne for this dish
One Elephant Garlic
One Sweet Onion
One can of Crushed diced tomatoes
One tablespoon of Olive Oil

Directions


While the water is beginning to boil for pasta. In a large pan with lid put the one tablespoon of olive oil on a medium flame.  Begin to dice the elephant garlic and sweet onion and then put in the pan to saute, within several minutes  you should begin to smell the garlic and onion cooking, then put all the ground veal in the pan to cook.  After a few minutes check on the veal, you want it brown not burnt, once you have turned it over  begin mixing the garlic, onion and veal all together.  By now the water for the pasta should be boiling, put the pasta in to cook.  Now put the entire can of diced tomatoes and all the liguid into the pan with veal, garlic and onion and mix all together, put the lid on the pan and put on the lowest flame.  After the pasta has completely cooked drain off all the water.  Remove the veal mixture in the pan off the flame, remove the lid carefully, slowly put in the pasta in  the veal mixture and mix all together thoroughly so all the pasta is covered with the veal mixture, when all mixed together replace the lid and bring to the table to serve.  I usually serve with a salad.

Enjoy!!!