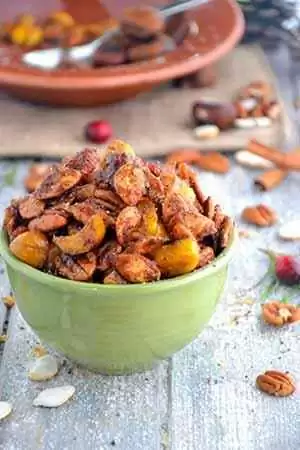 There is nothing like the taste of fresh-roasted nuts during wintertime. This recipe will please all of the nut lovers out there!

Ingredients:
1 cup pecans
1 cup macadamia nuts
1 cup cashews
1 tsp. ground cinnamon
1/4 tsp. all-spice
1 Tbsp. sugar
1/4 tsp. sea salt
1/4 tsp. pepper
2 Tbsp. Barlean's flax seeds
1 Tbsp. fresh orange zest
Instructions:
Preheat oven to 400 degrees F.
Place all nuts on a cookie sheet and roast for 10 minutes.
Meanwhile, in a small bowl, combine sugar with spices, flax seeds and orange zest; mix well to combine.
Remove toasted nuts from the oven and transfer to a large mixing bowl. Drizzle with oil and spices; gently toss to combine.
Transfer nuts to a serving dish and serve warm.