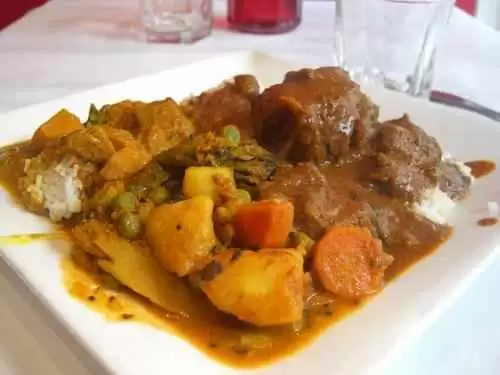 Caption: Photo: CC/avlxyz
This recipe is very exciting to me, because it is a vegetarian version of my favorite food. Prior to going gluten-free and eliminating meat from my diet, I loved chicken tikka masala. This recipe is wonderful because it is an easy gluten-free, dairy-free, and meat-free recipe!
Vegetarian Tikka Masala (Gluten-Free)
(serves four)
---
Celiac.com Sponsor (A12):


---
---
Celiac.com Sponsor (A12-m):


---
Ingredients:
Masala Paste:

2 teaspoons fresh ginger, minced
2 teaspoons garlic, minced
1 teaspoon cumin powder
1 teaspoon coriander powder
¼ teaspoon turmeric
1 teaspoon cayenne pepper powder
1 tablespoo paprika
1 teaspoon garam masala
Everything Else:
4 tablespoons olive oil
5 cardamom pods
1 cinnamon stick
1 ½ sweet onions, finely diced
1 large tomato, finely diced
½ cup water
himalayan or sea salt to taste
2 medium russet potatoes, diced
½ green cabbage, sliced into thin strips
2 cups frozen or fresh peas
coconut milk
To Make:
Mix all of the ingredients for the Masala Paste together.
Start  cooking the rice cooking according to the package instructions.
Heat the olive oil in a large skillet over medium heat.
Add the cinnamon stick and cardamom pods for just a

few seconds

to add fragrance to the oil, then remove them. Careful not to leave them too long or it will overwhelm the flavor of your masala.
Add the onions and stir until they are browned.
Add the masala paste and stir for a minute, then add the tomato and stir for another minute, then add the water and bring it to a simmer. 
Add Salt to taste.
Add the chopped potatoes, cabbage, and peas. Reduce the heat to medium-low and cook, stirring frequently, until the potatoes and cabbage are tender and a fork can slide easily through the potato pieces.
Add coconut milk to taste--the coconut milk will create a sauce.

Note:

you can substitute yogurt for coconut milk if you like.
Serve over aromatic Basmati rice or rice of your choice.