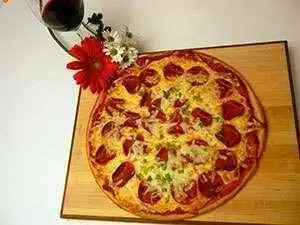 Caption: The finished Venice Bakery pizza.
I happen to love thin crust pizza. The other day I had the good fortune to get my hands on a 12" Venice Bakery Gluten-Free Pizza Crust, and it looked as if it was made exactly how I like it—uniformly thin  throughout the entire crust. I was impressed by how perfectly formed this pizza crust was, and I also like the fact that it was larger than most crusts I've tried—it was big enough for my family of four.

My family and I prepared the pizza together, and we added our favorite tomato sauce, cheese and gluten-free pizza toppings. We baked it in the oven as advised on the package for about 12-15 minutes at 475F, and the results of our minimal efforts were outstanding! The crust had excellent texture and tasted exactly how I expect great pizza to taste. My non-gluten-free family members (who can be more picky about some of the gluten-free products that I bring home!), absolutely loved this pizza!
---
Celiac.com Sponsor (A12):


---
I would love to do an experiment with with this pizza and serve it to unsuspecting non-celiacs—I am certain that they would not only not detect that it was gluten-free, but would consider it an outstanding pizza crust!

Visit their Web site for more info: http://www.venicebakery.com

 

 

Note:Articles that appearin the "Gluten-Free Food & SpecialtyProduct Companies" section ofthis site are paid advertisements. Formore information about this seeour AdvertisingPage.