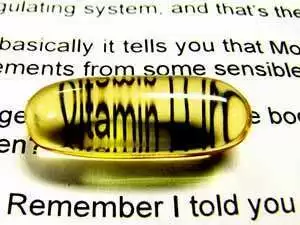 Caption: Photo: CC--koolskatkat
Celiac.com 12/09/2013 - People with celiac disease commonly suffer malabsorption, weight loss and vitamin/mineral-deficiencies. A team of researchers recently set out to assess the nutritional and vitamin/mineral status of current "early diagnosed" untreated adult celiac disease patients in the Netherlands.
The research team included Nicolette J. Wierdsma, Marian A. E. van Bokhorst-de van der Schueren, Marijke Berkenpas, Chris J. J. Mulder, and Ad A. van Bodegraven.
---
Celiac.com Sponsor (A12):


---
---
Celiac.com Sponsor (A12-m):


---
They are affiliated with the Department of Nutrition and Dietetics and the Department of Gastroenterology at Celiac Centre Amsterdam in VU University Medical Centre in Amsterdam, The Netherlands.

Researchers assessed 80 newly diagnosed adult celiac patients, averaging 42.8 years old, ± 15.1 years. They compared vitamin concentrations for those patients against a sample of 24 healthy Dutch subjects.

Before prescribing gluten-free diets to the patients, the researchers assessed nutritional status and serum concentrations of folic acid, vitamin A, B6, B12, and (25-hydroxy) D, zinc, haemoglobin (Hb) and ferritin.

Almost nine out of ten celiac patients (87%) measured at least one value below the lowest normal reference levels. Specifically, for vitamin A, 7.5% of patients showed deficient levels, for vitamin B6 14.5%, folic acid 20%, and vitamin B12 19%.

Likewise, 67% of celiac patients showed zinc deficiency, 46% showed decreased iron storage, and 32% had anaemia.

Overall, 17% of celiac patients were malnourished, with more than 10% experiencing undesired weight loss, 22% of the women underweight (Body Mass Index (BMI) < 18.5), and 29% of the patients overweight (BMI > 25).

Vitamin deficiencies were nearly non-existent in healthy control subjects, though they did show some vitamin B12 deficiency.

Interestingly, vitamin and or mineral deficiencies were not associated with greater histological intestinal damage or with adverse nutritional status.

This study shows that vitamin and/or mineral deficiencies are still common in newly "early diagnosed" celiac patients, even as rates of obesity upon initial celiac diagnosis continue to rise.

Thorough nutritional monitoring is likely warranted for establishing a dietary baseline and maintaining nutritional levels during the course of celiac disease treatment.

Source: