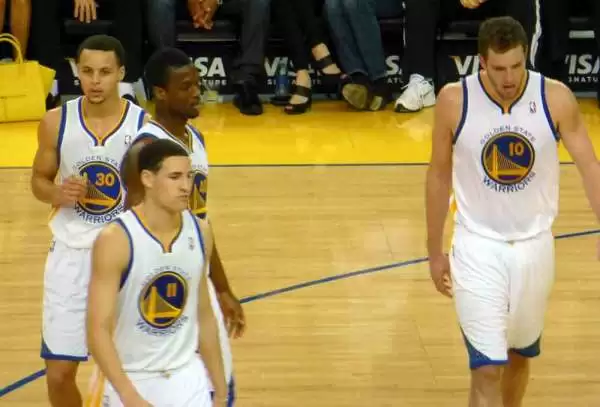 Caption: Image: CC BY 2.0--Matthew Addie
Celiac.com 12/25/2019 - Kevon Looney, the 6'9" 23-year-old forward for the NBA's Golden State Warriors, has announced a change to a meat-free, gluten-free diet, aimed at improving a neuropathic condition, which contributed to a hamstring issue that has plagued him since training camp earlier this season.
Looney is no stranger to dietary changes. Prior to the 2017-2018 season, he lost 30 pounds with the help of a personal trainer, some training adjustments, and a switch to a modified Paleo diet.
---
Celiac.com Sponsor (A12):


---
---
Celiac.com Sponsor (A12-m):


---
The latest dietary change came after Looney visited the Mayo Clinic in Rochester, Minn., last month, presumably to follow-up on the neuropathic issues that affect his hips.

Looney's plan of attack included giving up meat and gluten, as meat-free and gluten-free diets have been shown to improve a number of neuropathy cases.

Now a gluten-free and pescatarian, Looney's father, Kevin, serves as his personal chef. Meals now include things like blackened catfish, baked salmon, and vegetables, along with potatoes.

The Warriors have struggled so far this season, and are doubtless looking for Looney's diet to boost his health, and hopefully their chances for turning around what has thus far been a decidedly losing season.

Do you or a loved one suffer from neuropathy? Have you seen any improvement on a gluten-free diet? Share your experience in our comments below.

Read more at NBCSports.com