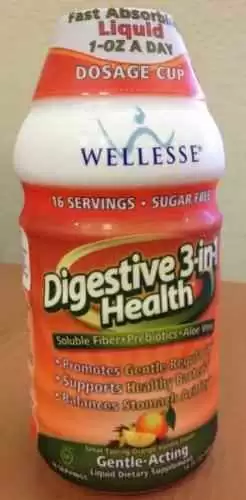 Wellesse's Digestive 3-In-1 Health liquid dietary supplement provides prebiotics and soluble fiber, (which are both key to maintaining healthy gut microbiotia) as well as aloe vera to balance stomach acidity. These are all important supplements for maintaining a healthy digestive system and Wellesse brings them all together in a form that the body can easily absorb.

Taken with juice, the supplement is very easy to fit into your morning routine (perhaps easier than pills, for those who have trouble swallowing them). After a week or two, I was noticing more digestive regularity, I was feeling full from meals quicker and I had dramatically reduced acid reflux. Overall, my digestive system feels… well, healthier.
---
Celiac.com Sponsor (A12):


---
---
Celiac.com Sponsor (A12-m):


---
Wellesse's Digestive 3-in-1 Health Liquid Dietary Supplement makes a great digestive health 'cocktail'. Just be sure to take some kind of probiotic supplement as well.

Visit their site for more info: www.wellesse.com.

 

 

Note: Articles that appear in the "Gluten-Free Food Reviews" section of this site are paid advertisements. For more information about this see our Advertising Page.