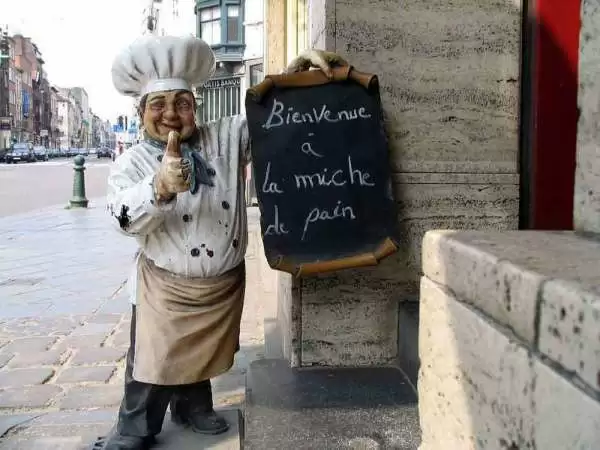 Caption: French bakery sign. Image: CC BY 2.0--Ken30684
Celiac.com 06/02/2020 - The symptoms of celiac disease can vary depending on how the type of celiac disease a person has. Celiac disease can be broken down into three types: The first type, classical, in which patients present with gastrointestinal symptoms, malabsorption syndrome and/or diarrhea. The second type, non-classical, in which patients experience extra-intestinal and/or gastrointestinal symptoms other than diarrhea. The third type, subclinical, with no visible symptoms. 
There are Over 200 Signs and Symptoms of Celiac Disease
Some patients have several of these signs and symptoms of celiac disease, some just a few. Many report non-gastrointestinal symptoms. 
---
Celiac.com Sponsor (A12):


---
---
Celiac.com Sponsor (A12-m):


---
In one study, up to 80% of patients showed some symptoms. However, one study showed that nearly two-thirds of symptomatic patients, also had atypical symptoms.

Classical Celiac Symptoms
Classic symptoms of celiac disease include diarrhea, vomiting, upset stomach, bloating, gas, weight loss, and malnutrition.

Non-Classical 'Atypical' Celiac Symptoms
People with celiac disease can often have non-classical, or atypical symptoms, such as fatigue, vitamin and nutrient deficiencies, and anemia, among others. Often, these symptoms can be overlooked because they are not gastrointestinal in nature. You got that right, it is not uncommon for people with celiac disease to have few or no gastrointestinal symptoms. Basically, there is no typical celiac. That makes spotting and connecting these seemingly unrelated and unclear celiac symptoms so important.
Celiac Symptoms Can Include:
No symptoms
Diarrhea
Constipation
Steatorrhea (fatty stools that float rather than sink)
Abdominal pain
Excessive gas
Any problem associated with vitamin deficiencies
Nutrient deficiencies
Dental enamel defects
Iron deficiency (anemia)
Chronic fatigue
Weakness
Weight loss
Bone pain
Easily fractured bones
Abnormal or impaired skin sensation (paresthesia),
Including burning, prickling, itching or tingling
Edema
Headaches
Peripheral Neuropathy (sometimes painful tingling in fingers and toes)
Symptoms Can Vary Between Children and Adults
The signs and symptoms of celiac disease can vary greatly and are different in children and adults. The most common signs for adults are diarrhea, fatigue and weight loss. Adults may also experience bloating and gas, abdominal pain, nausea, constipation, and vomiting.
Celiac Symptoms in Children Can Include
Failure to thrive
Paleness
Under weight
Querulousness, irritability
Inability to concentrate
Wasted buttocks
Pot belly with or without painful bloating
Pale, malodorous, bulky stools
Frequent, foamy diarrhea 
Less Common Celiac Disease Symptoms
White flecks on the fingernails
No half-moons on fingernails
Fuzzy-mindedness after gluten ingestion
Burning sensations in the throat
In addition to all of these, dermatitis herpetiformis, an itchy, skin disease in which severe rashes develop, usually on the head, elbows, knees and buttocks, is related to celiac disease. 
The amazing thing about celiac disease is that few celiacs seem to have exactly the same set of symptoms or reactions to gluten. A person might have several of the symptoms listed above, a few of them, one, or none. There are even cases in which obesity turned out to be a symptom of celiac disease.
Non-classical Symptoms Common for Vast Majority with Celiac Disease
The vast majority of people show non-classical or atypical celiac disease symptoms.
Many Celiacs Show Non-classical 'Atypical' Symptoms
In another study, just under 35% of celiacs reported at least one gastrointestinal symptom, most commonly diarrhea, or dyspepsia and constipation. Meanwhile, more than 37.3% reported non-gastrointestinal symptoms, most commonly anemia, and osteopenia. The rest had no obvious symptoms.
Atypical symptoms can make celiac disease hard to diagnose.
Headaches are Common in Celiac Disease
Celiac patients have high rates of unexplained headaches. Therefore, patients with headache of unknown origin should be screened for celiac disease.
Subclinical Celiac Disease - No Symptoms
More and more people diagnosed with celiac disease show no symptoms at the time of their celiac diagnosis. Since quick, accurate diagnosis is needed to prevent celiac disease from going untreated and causing long-term, irreversible, and sometimes life-threatening conditions, subclinical celiac disease can be even more dangerous than non-classical or classical celiac disease.
How to Spot the Most Common Celiac Disease Symptoms
Learn how to spot the most common celiac disease symptoms.