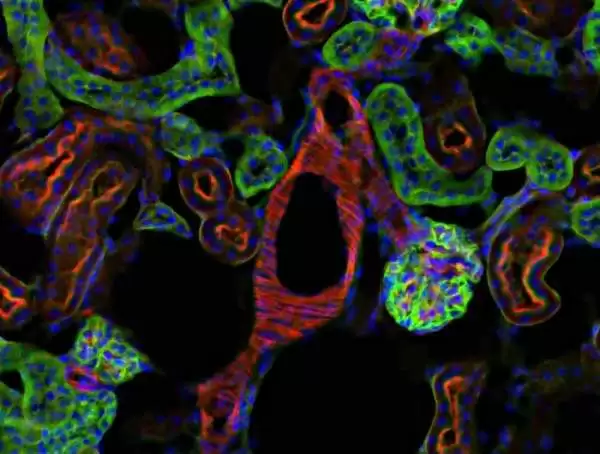 Caption: N-acetylglucosaminyl sugars are shown in green (WGA lectin). Image: CC by 4.0--Erin Rod.
Celiac.com 04/07/2020 - In the past few years, clinicians have begun to use of specific sugar residue seeking dietary proteins, called lectins, to topographically map the small intestinal cell surface and goblet cell secretory mucins to reveal the tissue's structure and function. Better understanding of the gut microbiome may be crucial to discovering the origins and modes of development of celiac disease and other sprue-like intestinal disorders.
Researcher Hugh James Freeman of the Department of Medicine, Gastroenterology, at the University of British Columbia, Vancouver, BC, Canada recently set out to examine the relationship between topographic lectin mapping of the epithelial cell surface in normal intestine and celiac disease.
---
Celiac.com Sponsor (A12):


---
---
Celiac.com Sponsor (A12-m):


---
Researchers are still in the dark about the exact origins and modes of development of celiac disease, though they generally agree that the culprit is likely an immune-mediated small intestinal mucosal disorder that can cause diarrhea, impaired nutrient assimilation and weight loss. 

An important part of this process takes place at the surface of the intestinal epithelial cell, which is closely associated with the luminal intestinal microbiome. 

On that surface, epithelial membrane glycoproteins and glycolipids occur alongside adsorbed molecules that allow interaction with the intestinal microbiome. 

In recent years, use of specific sugar residue seeking proteins, lectins, that can be found in the diet have been employed topographically to map the small intestinal cell surface and goblet cell secretory mucins to further elucidate the structure and function of this tissue. 

A growing body of evidence suggests that this microenvironment may have an important role to play in helping researchers understand the origins and development path of celiac disease and other sprue-like conditions.

Further study might help to shed more light on the role played by this microenvironment, especially in people who suffer from these disorders.

Read more in the International Journal of Celiac Disease. 2019, 7(3), 69-73