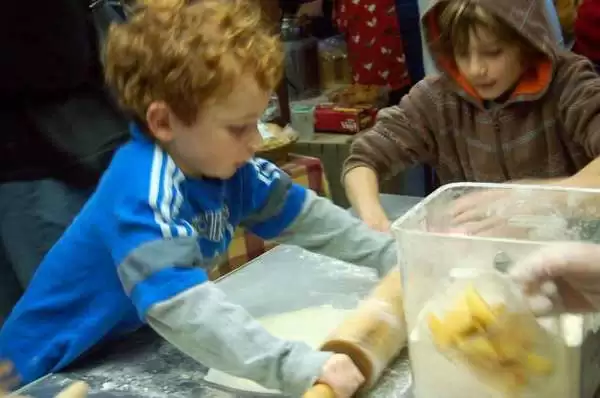 Caption: Kids working wheat dough. Image: CC BY 2.0--snowpea&bokchoi
Celiac.com 02/01/2020 - Traditionally, gluten is defined as a cohesive, elastic protein that remains when starch is rinsed from wheat flour dough. Gluten is the stuff that makes bread soft and pliable. It's the stuff that makes wheat paste sticky. It's also what causes so much trouble for people with celiac disease. Here are some quick facts about gluten and gliadin.
Gluten is actually made up of many different proteins. During digestion, the gut breaks down both gliadin and glutenin proteins into smaller units, called peptides, polypeptides or peptide chains. These peptide chains are made up of strings of amino acids--very much like beads on a string. 
Gluten Triggers Immune Reaction in Celiac Disease
---
Celiac.com Sponsor (A12):


---
Only wheat contains true gluten. However, rye and barley contain proteins that are similar enough to gluten to cause an immune reaction in people with celiac disease. Oat proteins have similar, but slightly different polypeptide chains and may or may not be harmful to celiac patients. There is scientific evidence supporting both possibilities.

There are two main types of proteins in gluten: gliadin and glutenin. 

While there are differences between the two, the main thing they have in common is that they trigger an autoimmune reaction in people with celiac disease. 

One peptide in particular triggers an adverse reaction in celiac patients when introduced directly into the small intestine. This peptide includes 19 amino acids strung together in a specific sequence. Although the likelihood that this particular peptide is harmful is strong, other peptides may also be harmful, including some derived from glutenin.
What Does it Mean to Be Gluten-Free?
When celiac patients talk about eating "gluten-free" or a following a "gluten-free diet," they are really just talking about avoiding the harmful peptides from wheat, rye, barley, and possibly oats. 
This means eliminating all foods and ingredients made from these wheat, rye, barley, such as food starch prepared from wheat, and malt made from barley, even if these foods don't contain gluten in the strict sense. 
So, going "gluten-free" has become shorthand for avoiding unsafe foods and ingredients that can harm people with celiac disease or gluten-intolerance, and eating foods and ingredients that are safe.
Corn and Rice Do Not Contain Gluten
In recent years, especially among non-celiacs, the term gluten has been stretched to include corn proteins (corn gluten), and there is a glutinous rice, although in the latter case, glutinous refers to the stickiness of the rice rather than to its containing gluten. 
Both corn and glutinous rice are safe for people with celiac disease.