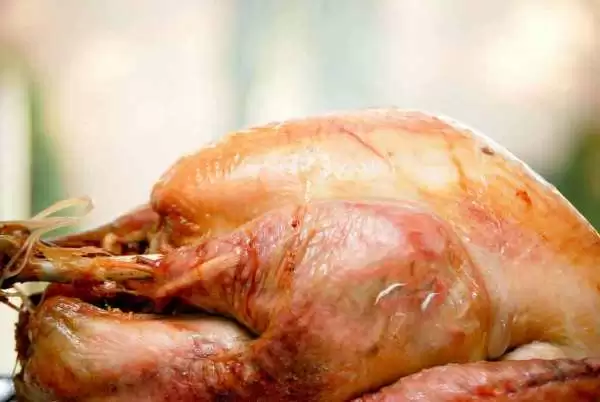 Caption: Image: CC BY 2.0--Steve A Johnson
Celiac.com 11/18/2020 - We get more than a few questions about holiday turkeys. One question we get a lot this time of year is: Which turkey brands are gluten-free and safe for people with celiac disease? The good news is that, except for gluten added after processing, turkey meat is naturally gluten-free, including turkey fed with wheat or gluten-containing grains. 
However, as with so many foods that start out gluten-free, the deeper answer lies in the extras. Unless you add wheat or gluten ingredients afterward, most turkeys and turkey meat is gluten-free. However, many of the commercial turkeys include seasoning packets or gravy packets that may contain wheat or gluten.
These brands of whole turkeys and turkey products are labeled "Gluten Free."
---
Celiac.com Sponsor (A12):


---
---
Celiac.com Sponsor (A12-m):


---
You can breath extra easy about serving them to people with celiac disease. Do you have a favorite brand of turkey that we might have missed? Share it below in the comments.

Butterball Gluten-Free Turkey
Butterball, does not label whole fresh or frozen turkeys as gluten-free. They do state "only two of our retail products currently contain gluten: Butterball Frozen Italian Style Meatballs and Butterball Frozen Stuffed Turkey." Double-check if you plan to use Butterball gravy, as most packets do contain gluten. Butterball turkeys can be found in many major grocery stores.

Diestel Family Turkey
Diestel Turkey Ranch, a fourth-generation family farm, provides tasty gluten-free whole turkeys from its sustainable ranch, including organic, all-natural, heirloom and pasture-raised varieties. Diestel turkeys are fed gluten-free grains without fillers and are raised under strict standards.

Empire Kosher Brand Gluten-Free Turkey Products
Empire Kosher Poultry, Inc., sells gluten-free whole turkeys in several sizes, along with half turkey breasts, turkey thighs, turkey drumsticks, and ground turkey. Empire brand turkey products can be found in most major grocery stores.

Foster Farms Turkey
Foster Farms Fresh Young Turkey and Fresh Young Turkey Breast are both gluten-free.

Honeysuckle White Gluten-Free Turkey
Honeysuckle White markets gluten-free turkeys. The company's website recommends that consumers "refer to product packaging for current and most accurate product information." 

Jennie-O Brand Gluten-Free Turkey Products
Jennie-O brand sells a number of gluten-free turkey products including Jennie-O Prime Young Turkey, fresh or frozen, Jennie-O Turkey Store Oven-Ready Turkey Breast, and Jennie-O Frozen Turkey Breast.  Jennie-O turkey products can be found in many major grocery stores. Be sure to avoid the gravy packet included with all of these turkeys, because it does contain gluten.

Norbest Turkeys
Norbest turkey products are "completely free of gluten from wheat, barley, rye, oats, or their derivatives." Look for Norbest turkey products in your grocery store or buy them online.

Shelton's Brand Gluten-Free Turkey Products
Shelton's Poultry products include organic, gluten-free turkeys, raised in "free-range conditions, without the use of antibiotics or artificial growth stimulants." Look for Shelton's turkeys in your grocery store or buy them online.