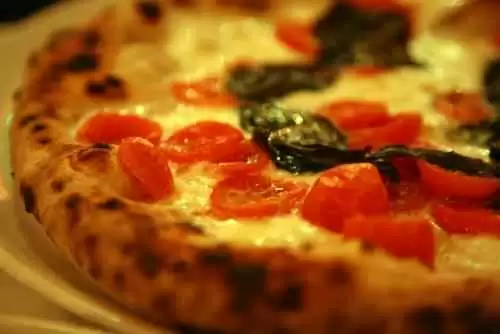 Caption: What gluten-free pizza is the best? Photo: CC--Simon Law
Celiac.com 01/09/2018 - The quest for delicious gluten-free pizza never ends, and great discoveries can be found in some unlikely places. That's why we're making a list and adding to it as we get new information on the best gluten-free pizza money can buy. We're not talking frozen gluten-free pizzas here, we're talking proper gluten-free pizzeria pizza.
Numerous pizzerias prepare their gluten-free options in a common kitchen, so the concern about gluten contamination can be real.
---
Celiac.com Sponsor (A12):


---
---
Celiac.com Sponsor (A12-m):


---
Many offer a boilerplate statement that indicates that they take steps to minimize the likelihood of exposure to flour, but that they cannot recommend gluten-free items for guests with Celiac or any other gluten sensitive disorder.

Of course, you should always trust your gut, and adjust accordingly. If you aren't sure, then be careful. The risk of gluten-contamination is higher in places that make traditional pizza, but the potential payoff is also bigger.

A pizzeria you can trust to make great gluten-free pizza is a real delight. So, if you're up for tasty gluten-free pizza pies baked at genuine pizzerias, then come along with us. We've tried to spread the love here, geographically speaking, but if you know about a great gluten-free pizza joint that we've missed, please let us know in the comments section.

Here is our list of America's Top Gluten-Free Pizzeria Pizzas:

Base Pizzeria – Phoenix, AZ
Base Pizzeria's offerings range from the traditional Margherita to more far-flung inspirations like white truffle oil, prosciutto and artichokes. All pizzas are available with a no-joke gluten-free crust. 

Blue Pan Pizza – Denver, CO
Detroit-style pizza in Colorado? Denver's Blue Pan brings the taste of the Motor City to the heart of the Rockies. Blue Pan offers both square Detroit style or traditional round pizza, with all the awesome toppings you want. And you can get either of them made gluten-free. 

Buddy's — Detroit, MI
Detroit is famous for Sicilian-style square pizza, and Buddy's, has been a city favorite since 1946. Buddy's bakes their airy, focaccia-like dough in the blue steel pans traditionally used in the auto industry, and tops their pizzas with tangy, buttery Wisconsin brick cheese.

Most of Buddy's numerous specialty pizzas can be made gluten-free. Make it easy on yourself and start with the Detroiter, a strata of brick cheese, pepperoni, parmesan, tomato-basil sauce, and the restaurant's proprietary Sicilian spice blend.

The Couch Tomato Bistro – Philadelphia, PA
The Couch Tomato not only offers a tasty gluten-free crust, they offer a range of gluten-free sauces, as well. 

Forno Rosso Pizzeria Napoletana — Chicago, IL
Chicago knows a thing or two about pizza, and Forno Rosso is one of its cognoscenti. I'm not talking Deep Dish, though they do know a thing or two about that, too. I'm talking traditional thin crust pizza. This popular Chicago pizzeria Forno Rosso Pizzeria Napolitana serves a fantastic Neapolitan-style gluten-free pizza. 

La Famiglia Giorgio's – Boston, MA
La Famiglia Giorgio's looks to bring the tastes of Rome to Boston's North End. La Famiglia Giorgio's will make any of their top-notch pizzas gluten-free, that includes the Buffalo Chicken, Old World Sicilian, and of course, the traditional pizza Margherita.

Pinky's Pizzeria – Portland, OR
Portland staple Pinky's serves delicious one-of-a-kind specialty pizzas, such as "The Super Mario," "The White Eagle," and "The Buscemi." And they will make any of them gluten-free. 

Mary's Pizza Shack — Northern California
Mary's is a family-owned Northern California institution, with more than a dozen locations throughout Marin, Sonoma, Napa and neighboring counties.

Mary's prepares its Italian comfort food from scratch every day. No heat lamps. No frozen dough. No canned sauces. Their soups, salad dressings, sauces, pizza dough and focaccia are all made fresh daily, using Mary's original recipes. Their pizza is delicious, and that includes their gluten-free pizzas.

Rocco's – Seattle, WA
Rocco's is where Seattleites for delicious pizza made with ingredients from a dizzying list of toppings, all available on their yummy gluten-free crust.

Rubirosa – New York City
Consistently ranked among the top gluten-free pizzas in New York, Rubirosa doesn't just offer regular pizza toppings on a gluten-free crust, they offer a complete menu of gluten-free pizzas! 

Tony's Pizza Napoletana – San Francisco, CA
Twelve-time World Pizza Champion Tony Gemignani is the proprietor of Tony's Pizza Napoletana, a classic Neapolitan-style pizzeria, located in the heart of San Francisco's Little Italy.

Tony's uses authentic ingredients imported from Naples, so whether you choose a gluten-free version of the famous Pizza Margherita or the savory Cal Italia, Tony's has you covered. What's more, Tony's Pizza Napoletana recently earned a recommendation in the MICHELIN Guide San Francisco 2016.

Via 313 – Austin, TX
If you're looking for the best pizza in Austin, head to Via 313 for their traditional Sicilian-style square pizza. They do both traditional and gluten-free pizzas that live up to their motto: Built right. To the last bite.

Woodstock's Pizza — Santa Cruz, CA, with locations in Northern California and Oregon
Originating in Oregon before spreading into California, Woodstock's Pizza was named #3 Independent Pizzeria in the Nation by Pizza Today. Woodstock's offers tasty gluten-free versions of their popular pizzas.