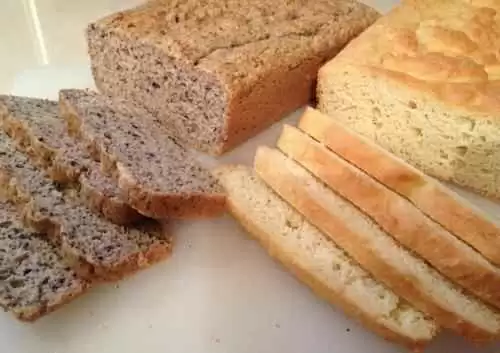 Caption: Photo: CC--Johanna Alderson
Celiac.com 01/02/2018 - Sandwich lovers can get mighty particular about which breads make the best sandwich. There's plenty of room for opinion, and personal taste can include opinions on toasting versus non-toasting, seeded versus non-seeded, white versus whole grain, and on and on.
That means that this list of gluten-free sandwich breads is not meant to be authoritative. It is not written in stone. In fact, it is subject to revision based on input and suggestions by our readers.
---
Celiac.com Sponsor (A12):


---
---
Celiac.com Sponsor (A12-m):


---
That said, these are some of the stand-out gluten-free sandwich breads that we have tried.

Bread Srsly
Bread Srsly uses long fermentation of organic millet, sorghum and arrowroot with a wild sourdough culture to deliver a tasty gluten-free classic with a delightful sourdough tang.

Okay, it's not pre-sliced, so technically it may not quality as sandwich bread, but I'm such a fan of Bread Srsly. Toast this bread up and it makes a lovely base for a sandwich. The tangy sourdough is perfect for ham, or tuna salad, or just a bout anything else you want on your sandwich. Breadsrsly.com

Canyon Bakehouse
Canyon Bakehouse makes a wide variety of gluten-free bread products. Canyon's gluten-free breads can also be stored at room temperature without becoming crumbly, making them perfect for sandwiches. Canyon. Breads are also excellent for grilled sandwiches. Certified gluten-free, Dairy Free, Soy Free, Nut Free, Non GMO. Canyonglutenfree.com

Franz
Seattle favorite Franz bakery makes a respectable sandwich bread.
Franz makes gluten-free bread with a nice, chewy consistency that doesn't crumble, so you can make a sandwich with or without toasting. Great for lunches! Franzbakery.com

Glutino 
Glutino gluten-free breads come in four styles: Cinnamon Raisin; Multigrain; Seeded and White. Glutino breads are light enough to eat right out of the bag. They also come in a nice, full size slices so you can make a proper sandwich. Glutino.com

Rudi's
Once found only in the frozen section, Rudi's now makes a soft, fluffy sliced bread that can be eaten right out of the bag.
Rudi's keeps it simple with just two varieties of gluten-free fresh sliced bread, Original and Multigrain. Both are perfect for sandwiches as is, but toast up nicely. RudisBakery.com

Schär
Schär uses top quality rice, corn or buckwheat, along with sorghum, a traditional African grain, or quinoa, to make its long-fermented gluten-free sourdough sliced loaves and baguettes.

Sourdough enzymes help the bread to stay fresh longer after baking, enrich the bread with vitamins, and eliminates the need for artificial preservatives. Schaer.com

Trader Joe's
Yes, Trader Joe's offers a gluten-free bread. Trader Joe's Gluten Free Whole Grain Bread is dairy, soy, nut, and gluten-free. It's made with brown rice flour, teff (a grass cultivated for grain), whole grain amaranth, whole grain sorghum (also in the grass family, and cultivated for grain), tapioca, potato, and flaxseed meal.

According to Trader Joe's website, their Gluten Free Whole Grain Bread is "lower in fat, with fewer calories than its big-brand counterpart." Traderjoes.com

Three Bakers
Three Bakers gluten-free sliced sandwich bread comes in four varieties: White Bread Whole Grain; 7 Ancient Grain Whole Grain Bread; Rye Style Whole Grain Bread; and MAXOMEGA™ Whole Grain AND 5 Seed Bread. Threebakers.com

Udi's Gluten-Free White
Light, airy and fiber-rich, Udi's popular sandwich loaf bread is made with all natural ingredients without added fillers. Udisglutenfree.com