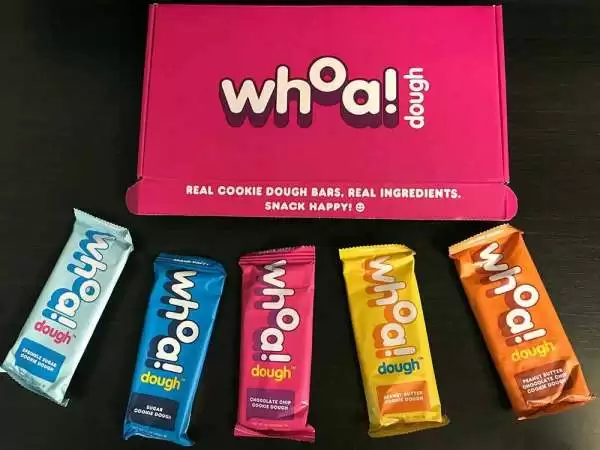 Celiac.com 09/12/2019 - So who doesn't love cookie dough? When I was a kid I always wondered why we bothered baking cookies at all, when you could just use the beaters to eat all the dough, right?
I've finally found what I've been dreaming about all these years: Whoa Dough Cookie Dough Bars. Amazingly these bars are gluten-free, and they also happen to be far healthier than eating cookie dough, as they are made using healthy ingredients like almond flour, almond butter, peanut butter, arrowroot powder, maple syrup, just to name a few.
---
Celiac.com Sponsor (A12):


---
---
Celiac.com Sponsor (A12-m):


---
In fact, one bar contains a whopping 14% of your daily recommended fiber! 

But the best thing about these bars is their taste and texture. They really do taste like your favorite cookie dough, and they come in my favorite flavors: Chocolate Chip, Peanut Butter, Peanut Butter Chocolate Chip, Sugar, and Sprinkle Sugar. My favorite is the Peanut Butter Chocolate Chip because they use so many delicious chocolate chips.

On top of being gluten-free, all their bars are plant based, non-GMO, grain-free, soy-free, and kosher. What more could you ask for...a beater to lick? If you love cookie dough like I do, you will love these bars!

For more info visit their site.