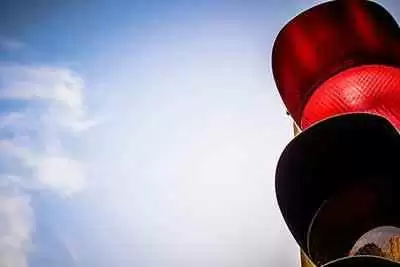 Caption: Big pharma, and celiac drug treatments get a red light from many readers. Photo: CC--Kenny Louie
Celiac.com 09/18/2015 - That old saw about death and taxes might need a bit of amending to include complaints about pharmaceutical companies working on celiac drug treatments.
One interesting facet of our coverage of the development of various drugs to treat and/or cure celiac disease has been the regular presence of comments questioning the motives,and actions of the companies involved.
---
Celiac.com Sponsor (A12):


---
---
Celiac.com Sponsor (A12-m):


---
It's funny, but no one complains that companies still make money selling aspirin, and that no one has cured a headache, and that there must be some conspiracy to profit off of those who suffer a headache.

There's no doubt that there's money to be made producing drugs that treat disease. But, if a company can develop and produce a safe drug to protect celiacs against contamination, or to help reduce symptoms, what's wrong with that?

Just like an aspirin, I can take it or not take it.

In the old days, ten years ago or more, people with celiac disease generally suffered in silence, with scant gluten-free food choices, and little information. However, in just a decade, we've got a wealth of information, and multi-billion dollar gluten-free foods market and a number of companies developing drugs to treat or cure celiac disease.

To me, that's a good thing. Still, there are naysayers. Here's a rundown of comments by readers who seem less than enthused about celiac drugs in development.

Our recent article, An Update on Every Celiac Disease Drug Currently in Development included the comment:

"Article's fine. Concept's disturbing. Eating a gluten-free diet is the free, already-proven cure for celiac and gluten-intolerance. They don't have to torture mice and likely other animals to find a 'cure' for something that there already is a cure for. I imagine there is $$ for the researchers here and $$ for the animal labs and $$ for the pharmaceuticals."

Of our article entitled, How Close Are New Celiac Disease Treatments? one reader wrote:
"I would be very cautious about taking any of these until it was proven absolutely to have no side effects. There always are some and history has shown some to be deadly."
Commenting on our article ALV003 Reduces Gluten Damage in Celiac Disease Patients, one reader commented:
"I only want to know: how long until random internal organs begin to fail or malfunction as a result of yet another new mystery drug? I'd rather starve to death than be a guinea pig for big pharma again."
Our article on NexVaxx, entitled Is a Vaccine for Celiac Disease Just Around the Corner? included the following comments:
"Totally agree with vhill seems like a ploy to poison people with GMO foods that come up with a supposed "'cure'. Eat healthy whole foods this is not a curse its a wake up call to be healthy if you didn't have celiac you'd probably be eating processed crap."
Balm wrote: "Thanks but no thanks. I'll remain a celiac and continue to eat healthy. While trying to fix one problem, some will end up with far worse problems."
Jonnys wrote: "Stupid idea! Just another way to make more money off of people."
These are but a few of the largely positive comments we receive, and we hope you enjoyed them as much as we do.