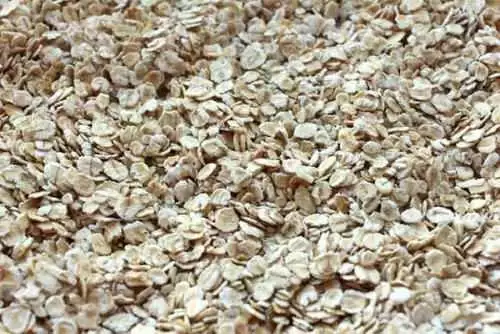 Caption: Image: CC--christian schnettelker
Celiac.com 12/18/2018 - Evidence compiled by Quaker Oats shows that 4% of the purity protocol oats the company uses to make "gluten-free" oatmeal products are contaminated with trace amounts of gluten. Overall, these batches may contain under 20 ppm gluten, and thus be considered gluten-free. But somehow, isolated kernels of wheat, barley or rye flakes were making their way into the final oatmeal products and onto store shelves.
Because these kernels were rolled flat the same way as the oats, it was possible for one of these flakes to find its way into a bowl of otherwise gluten-free oats, and to render the bowl over the 20 ppm standard, meaning it is technically not gluten-free, according to FDA standard.
A less than 20-ppm result disqualifies the production lot, while a greater than 5 to less than 20-ppm result triggers complete analysis of the remaining 60-g of ground sample, analyzed in 15-g portions.
If all five 15-g test results are less than 20 ppm, and their average is less than 10.67 ppm (since a 20-ppm contaminant in 40 g of oats would dilute to 10.67 ppm in 75-g), the lot is passed.
Most oatmeal is made from rolled whole oats. That means that, even with just 4% gluten contamination, products made with whole oats, even rolled oats, can contain pockets of gluten that might render a given serving over the 20 ppm standard. Because Quaker, or their oat supplier, lacks a sorting process for eliminating or reducing gluten-contamination in its raw purity protocol oats, and because its oatmeal is minimally processed, the problem of loose individual flakes of wheat, barley or rye remains unsolved at the manufacturing level. This is true for Quaker in a way that is not true for General Mills.
No matter how much Quaker mixes rolled oats, a single wayward flake of wheat, rye or barley will remain intact and eventually turn up in a serving portion. That's true, even if it's just an isolated flake. That means that Quaker must look for a solution in its supply chain.
So, Quaker's approach makes sense for products made with whole oats. However, the challenges faced by Quaker in making gluten-free oatmeal are substantially different than the challenges faced by General Mills in making a product like Cheerios. That's because of differences in the processes used to make the two products.
Because General Mills uses a process to sort its raw oats to below 20 ppm allowable gluten, and because it then grinds the raw oats into oat flour, there is no danger that intact flakes of wheat, rye or barley will make their way into any given serving. The flour is mixed thoroughly, and, thus, any flour from the wayward oat flake is now blended evenly into the rest of the batch. The oat flour is then mixed further with other ingredients to become the raw material for making Cheerios.
So, it's extremely unlikely that Cheerios would suffer from the types of gluten "hotspots" that Quaker found in their supposedly gluten-free purity protocol oats. The process greatly increases the likelihood that any gluten would be evenly distributed into the final product, and thus be gluten-free below 20 ppm at the serving level.
Essentially, the two studies by scientists at Quaker show a couple of things. First, whole oats, and products made with whole oats, even those labeled gluten-free, even those which are harvested as "purity protocol," can contain isolated pockets or "hotspots" of gluten. This may mean that these products can cause symptoms in people with celiac disease. People with celiac disease should be vigilant about these products. Trust your gut and eat accordingly. Second, the data gathered, and the conclusions reached, by the Quaker scientists regarding Quaker's efforts to produce gluten-free oatmeal, have little or no connection to General Mills and the process used to make Cheerios.
It would be a mistake to project Quaker's challenges onto General Mills. For its part, it seems that General Mills has actually solved the challenges of removing wheat, rye and barley from oats to reach levels below 20 ppm, and to manufacture products that reflect that gluten-free status. General Mills has solved the challenge at the manufacturing level in a way Quaker has not.
For all its refined testing procedures, Quaker is still reliant on its suppliers to deliver gluten-free oats. Somewhere, somehow the problem of quantifying the gluten content of raw oats and rendering that level to be within gluten-free standards still has to be solved.
Quaker is relying on oat growers and suppliers to solve the problem, to develop a way to quantify and reduce the gluten contamination levels of raw "purity protocol" oats. Perhaps Quaker might benefit from optical sorting technology, or other processes that allow them to exert more control over their finished product at the manufacturing level?
Celiac.com is not alone in saying that optically sorted oats likely safe. That view is also held by the Gluten Intolerance Group.
Read articles on the original studies by scientists at Quaker Oats at Food Chemistry, and the International Journal of Food Science Technology.
Sources: