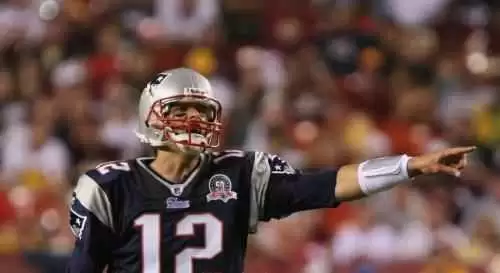 Caption: New England Patriots quarterback Tom Brady avoids gluten, among other foods. Photo: CC--Kieth Allison.
Celiac.com 11/08/2017 - Gluten-free diets are popular lately, and not just with people who have celiac disease or other gluten-sensitivities. In fact, the vast majority of people who eat gluten-free food do not have celiac disease, or any other clear reason to avoid gluten.
Going gluten-free has also become popular among various sports figures and athletes. Some athletes do claim to have celiac disease or other sensitivities to gluten. Others embrace a gluten-free diet based on beliefs that the diet can help to improve their performance or recovery times. To that latter group, we can now add New England Patriots quarterback, Tom Brady.
---
Celiac.com Sponsor (A12):


---
In a recent interview, the Brady family's personal chef, Allen Campbell, provided details about Brady's personal dietary preferences, especially the foods he avoids.

The foods tom Brady avoids include:
Coffee—Again, concerns of inflammation lead Brady to avoid coffee.
Dairy—The entire Brady avoids milk and dairy products.
Fresh fruits—Concerns over too much sugar lead Brady to generally avoid fresh fruits, though he does partake in an occasional fruit smoothie.
Gatorade—CBS Sports reports that Brady uses lots of lemons to make his own sugar-free electrolyte drink for games.
Gluten—Concerns that gluten could cause inflammation and mess up his digestion lead Brady to avoid gluten, even though he does not have celiac disease.
Nightshades—Brady avoids fruits and vegetables that may promote inflammation, such as nightshades. Common foods in the nightshade include potatoes, tomatoes, bell peppers, hot peppers, eggplants, pimentos, huckleberries, tomatillos, paprika, ground cayenne pepper and hot sauce.
Processed oils—Campbell cooks with coconut oil instead of olive oil. Brady will eat olive oil if it is raw and uncooked.
White sugar—Concerns of inflammation lead Brady to avoid white sugar.
White flour—Concerns of inflammation lead Brady to avoid white flour.