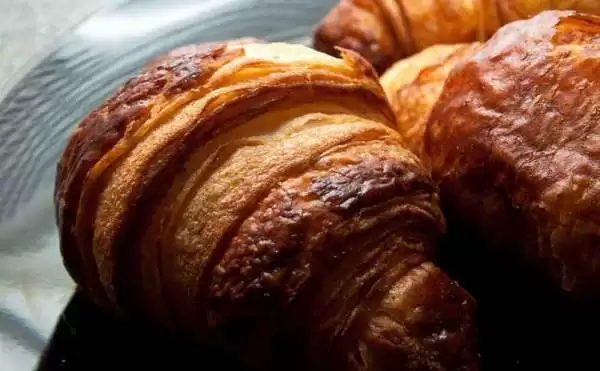 Caption: Croissant. Image: CC PDM 1.0--Blarvar
Celiac.com 07/25/2019 - Researchers are using gene modification to create new strains of wheat that will be safe for people with celiac disease. Can they do it? Will it be accepted by consumers? So far, efforts to develop new, celiac safe wheat strains have focused on creating strains with little to no toxic proteins remaining in the DNA. This new effort focuses on embedding a gluten-dissolving enzyme into the genetic structure of the wheat to render it safe for people with celiac disease.
A team of researchers recently set out to create a new strain of wheat that would be safe for people with celiac disease and gluten-sensitivity. The research team included Claudia Osorio, Nuan Wen, Jaime H. Mejias, Bao Liu, Stephen Reinbothe, Diter von Wettstein, and Sachin Rustgi.
So far, it looks like oral enzymes might only reduce gluten reactions in people with celiac disease, but not eliminate them entirely. If so, their use might be limited to mitigating the effects of light, accidental gluten exposure.
What's interesting about the wheat strain developed by Washington State researchers is that it contains gluten-digesting enzymes that become active in the intestine. This could mean better delivery of enzymes to the gut, and better gluten-dissolving efficacy than pill-based enzymes.
Because the new wheat strain is genetically modified, and because genetically modified food remains unpopular in the United States, the team could have their work cut out for them both in the lab and in the court of public opinion. 
Gluten contamination is a serious and very real concern for most people with celiac disease who eat away from home, especially in restaurants. Remember, gluten doesn't always trigger symptoms, but even so, it may cause damage to the gut, especially over time.
The idea of a new wheat variety that is pre-loaded with gluten-digesting enzymes is a very attractive solution for some people, though many, especially in the United States are wary of GMO foods. In any case, the team will continue to research and develop their wheat before moving to clinical trials.
What do you think? Potentially helpful for people with celiac disease, or no? Share your thoughts below.
Read more in Functional & Integrative Genomics; and the Genetic Literary Project.
The researchers in this study are variously affiliated with the Department of Crop and Soil Sciences, Washington State University, Pullman, WA, USA; the Centro de Genómica Nutricional Agro-acuícola, CGNA, in Temuco, Chile; the Instituto de Investigaciones Agropecuarias (INIA), Centro Regional de Investigación Carillanca, in Temuco, Chile; the Key Laboratory of Molecular Epigenetics of MOE and Institute of Genetics & Cytology, Northeast Normal University, Changchun, China; the Laboratoire de Génétique Moléculaire des Plantes et Biologie Environnementale et Systemique (BEeSy), LBFA, Université Grenoble-Alpes, in Grenoble France; the Department of Crop and Soil Sciences, Washington State University, Pullman, WA, USA; and with the Clemson University Pee Dee Research and Education Center in Florence, SC, USA.