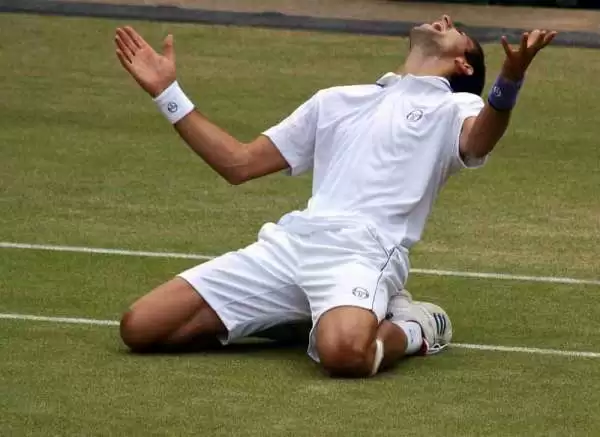 Caption: Image: CC BY-ND 2.0--Marianne Bevis
Celiac.com 07/24/2019 - Tennis champion and world number one, Novak Djokovic helped himself to a taste of Wimbledon famed grass after his historic victory over famously non-gluten-free, Rodger Federer. 
According to the 2019 Wimbledon men's singles champion, he continues to power himself to victory with hard work, and a gluten-free diet. In this interview Djokovic talks about the importance of the diet to his improved performance.
---
Celiac.com Sponsor (A12):


---
---
Celiac.com Sponsor (A12-m):


---
For nearly a decade now, Djokovic has followed a gluten-free and dairy-free diet. He also cuts out as much sugar as possible, tending to stick to vegetables, beans, white meat, fish, fruit, nuts, seeds, chickpeas, lentils and healthy oils. At one point, he even put his dog on a gluten-free diet, something the FDA recently warned might be harmful for dogs' hearts.

The dietary change helped Djokovic trade frequent on-court meltdowns for numerous championships and Grand Slam titles. Djokovic wrote about the importance of his new diet, in his book, Serve To Win. Here's a sample of a single day from Novak's weekly meal and snack list:

Day One
Breakfast Water first thing out of bed; two tablespoons of honey; muesli (including organic gluten-free rolled oats, cranberries, raisins, pumpkin or sunflower seeds and almonds)

Mid-morning snack (if needed):
Gluten-free bread or crackers with avocado and tuna

Lunch:
Mixed-greens salad, gluten-free pasta primavera (including rice pasta, summer squash, courgettes, asparagus, sun-dried tomatoes and optional vegan cheese)

Mid-afternoon snack:
Apple with cashew butter; melon

Dinner:
Kale caesar salad (kale, fennel, quinoa and pine nuts) plus dressing (including anchovies or sardines); minestrone soup; salmon fillets (skin on) with roasted tomatoes and marinade

Read more about Djokovic's diet in his book, Serve to Win, or in GQ.co.au