Caption: Photo: CC - Ed Yourdon
This article originally appeared in the Autumn 2002 edition of Celiac.com's Journal of Gluten-Sensitivity.
Celiac.com 11/08/2011 - Are you a bit overweight?  If you wear the same two outfits all the time because nothing else in your closet fits, you may be a prime candidate for a "Low Calorie" Gluten-free regimen.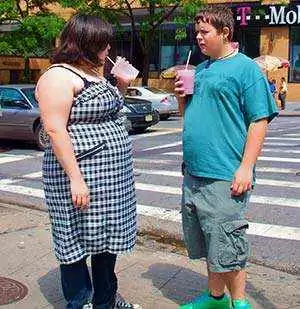 The key to any weight reduction program is to concentrate on eating healthy instead of counting calories.  The more you concentrate on reducing your intake of fats, cholesterol and sugar, the more weight you will ultimately lose.  Beware of "fat free" foods; they often contain large amounts of salt and/or sugar.  Below are some hints to help you stick to a sensible diet:

Eat what you like (within reason)…just eat smaller portions and prepare it with fewer calories.  You won't stick to your new program if you are forced to eat foods you don't like.  (Use some common sense with this step.  Eating smaller portions does not refer to smaller portions of butter-whipped potatoes and chocolate cream pie!)
Forget the grapefruit diet!  There is no need to starve yourself or go on crash diets.  Food group elimination diets may deprive your body of necessary vitamins and minerals and affect your health after a period of time, and usually you will put the weight right back on when you start to eat "normally" again.  It is far better to lose the weight with a sensible, well-rounded diet, over a period of time.  Eat as many different foods as possible to assure that you are getting a full range of nutrients.
Train yourself to sit and enjoy your meal, preferably taking at least 20 minutes to relax over your meal.  Never eat at the counter standing up; never walk out the door holding a sandwich or snack in your hand; and, when you clear the dishes from the table, NEVER finish up what someone else has left on their dish.  Remember…what you eat in private shows in public!
Serve meals attractively; garnish your plates.  A pretty plate presentation will make even plain foods look appetizing.
Before eating something, ask yourself, Are you really hungry or are you just bored?  If you are just bored try chewing a piece of gluten-free sugarless gum and take a walk around the block.
Don't skip meals.  Skipped meals often lead to an out-of-control appetite before your next mealtime, and may wreak havoc on your blood sugar levels.
If you get really hungry between meals, snack on healthy, low calorie snacks (carrot sticks, plain popcorn, or some raisins).
Skip the "extras":  Don't put butter on your bread; butter doesn't fill you—it just adds calories and fat.  Eliminate sugar in your cereal, coffee or tea.  If you are eating French fries (oven-baked instead of deep fried), skip the ketchup.  Put away the steak sauce and tartar sauce; when the gravy boat is passed to you pass it on to someone else (who's not on a diet!).  Cutting out the "extras" will significantly reduce your total caloric intake.
Eat foods with adequate starch and fiber.  Your body needs these so be sure to eat three servings of vegetables and two servings of fruit each day to keep you healthy inside.  Do not confuse natural starch (potatoes, corn, brown rice) with processed starch (pasta, breads).  Natural starch is healthier for you and provides your body with energy.  Processed starch will slowly convert to sugar in your system, and allow it to absorb more sugar—and no one needs this!
The key to better health is to maintain a healthy, reduced calorie diet that includes the least possible amount of processed foods.  Instead of the apple pie, eat just the apple!

Beware of focusing only on eating "fat free" foods.  Shrimp has very little fat or calories, but it is higher in bad cholesterol than many other foods.  A "fat free" dinner may have excessive amounts of sugar which can be just as bad for your diet as fats.   A "fat free" dinner may have excessive amounts of salt, which can also be unhealthy.

Beware of focusing only on your total caloric intake.  If you just count calories, you could eat several pieces of candy per day but would have to avoid all other foods.  Obviously the candy will not give your body the nutrients it needs, even though you are within your calorie limitations.  While caloric intake is a consideration, other factors are equally important, such as getting the proper vitamins, minerals, protein and fiber.

We hear a lot about fats in the diet. Polyunsaturated oils lower your total blood cholesterol level, while monounsaturated oils (such as olive oil) lower LDL cholesterol levels and leave the beneficial HDL cholesterol intact.  Saturated fats do nothing but clog up your arteries and add calories.  Try these steps to reduce saturated fat in your diet:

Eat less red meat.  When you do eat red meat, trim the fat before cooking it and limit the portion size to no more than four or five ounces per day. (Stir-frying allows you to cook small amounts of meat with lots of fresh vegetables and very little fat.)
Don't eat organ meats.  Organ meats (like liver, brain and kidney) have very high amounts of bad cholesterol and are also sources of concentrated toxins.
Read labels.  Avoid foods that contain large amounts of hydrogenated vegetable oils, such as cocoa butter, coconut and palm oils, beef fat or lard.  Instead, use unsaturated fats such as olive or corn oil (if you use safflower oil, use it on salads but do not heat it as its helpful elements will break down).
Eat low-fat cheeses.  Use part-skim mozzarella and substitute skim milk for whole milk.  Use skim milk in your coffee instead of cream or cream substitutes (many cream substitutes contain tropical oils which are very high in fat).
Cook differently.  Instead of sautéing vegetables in butter, spray your pan with a gluten-free nonstick spray; or precook onions, celery, green peppers and other vegetables by simmering them in a little water or broth, then drain. Cook with egg whites when possible instead of whole eggs.
Now that you have cooking at home under control, what do you do when you eat out? Here are some tips: 

Choose entrees that are steamed, poached or broiled.
Fish and chicken have far less calories, fat and cholesterol than beef.
Eat half of your dinner; ask for a box to take home the rest for tomorrow's meal.
Restaurants today offer many low calorie selections.  Even fast-food outlets offer salads and lean burgers (obviously, without the bun).
Be wary of "Diet Platters"; they often contain tuna salad loaded with high-calorie mayonnaise, canned fruit in heavy sugared syrup and Iceberg lettuce, which have minimal nutrients.
Finally, we have to confront the "E" word—Exercise!  If you use the excuse that you can't afford to join a health club, or you don't have time to exercise (oh, that "E" word again!), then realize that you are only fooling yourself.  You can walk and do floor exercises at home for free.  You can walk up and down stairs at home or at a public building for free.  Walking promotes a lifetime of good health, but don't expect results overnight.  In the beginning, forget stopwatches, heart rates, and technique.  Just go for a walk at a comfortable pace for 30 minutes; or do two or three strolls for 10 minutes each (we all waste more time than that just dreaming up excuses why we shouldn't exercise!).  Once you are at ease with this, increase your pace, and/or the length of time of your walks.  Finally, refine your method of walking.  The correct posture, arm swing and stride add up to higher-intensity exercise and a lower risk of injury.
Spinach Rice Tomatoes
From The Wheat-Free Gluten-Free Reduced Calorie Cookbook. This entrée or side dish is low fat, low cholesterol, vegetarian, vegan, corn-free, soy-free, gluten-free, yeast-free, egg-free, dairy-free, low sodium, low carbohydrates, and tastes great!

Ingredients:
6 medium tomatoes
1 box (10 oz.) frozen chopped spinach, thawed
2 tablespoons olive oil
¼ cup rice
2 onions, chopped
1/8 teaspoon pepper
¼ cup carrots, shredded
1/8 teaspoon salt
1 tablespoon parsley, chopped
3 tablespoons tomato sauce
1 tablespoon dill
¾ cup water

Directions:
Cut a slice off the stem-end of each tomato; remove pulp (freeze the pulp from the tomatoes to use in soups or stews).  Cut a small "X" on the bottom of each tomato; place in a baking pan.  Pour ½-inch of water in the pan; cover and bake 15 minutes or until tomatoes are soft but still hold their shape.  Remove tomatoes with a spatula; drain off water from pan.  Spray pan with gluten-free nonstick spray, then return tomatoes to pan.  Spray a skillet with gluten-free nonstick spray; add oil and sauté onions and carrots in oil slowly until golden brown, stirring frequently.  Stir in remaining ingredients.  Cover and simmer for 15 minutes or until moisture is absorbed.  Remove from heat and cool 5 minutes.  Fill tomato cavities with spinach mixture.  Cover and bake for 15 minutes.

Nutritional Breakdown:  Calories: 71; Total fat: 4g; Saturated fat: 0.6g; Cholesterol: 0mg; Sodium: 108mg; Carbohydrates: 6g; Fiber: 1.7g; Sugar: 0.6g; Protein: 1.7 g