This recipe may be prepared using a mixer and oven or in a bread machine. This loaf is light and airy, yet substantial enough to use as sandwich bread (however, if you want a denser loaf, simply add 1/4 cup dry milk powder to the dry ingredients).
The recipe boasts the addition of flax seed meal and flax seeds which contribute a large amount of dietary fiber and other beneficial nutritional properties like high omega 3.  The simple addition of two tablespoons of flax seed meal to this bread also adds four grams of dietary fiber and three grams of protein.  As an alternative, you can simply use 2 eggs in place of the flax seed and water mixture, and you will add the dry yeast to the dough at the final mixing step.
When making with a mixer and oven, follow the specific directions outlined below.

Ingredients:
2 Tablespoons ground flax seeds or flax seed meal
½ cup very hot water
1 tsp. granulated cane sugar
1 Tablespoon rapid rise or bread machine yeast
¼ cup Earth Balance Shortening, cut into small pieces (or canola oil, if using a bread machine)
3 ¼ cups Jules Gluten FreeTM All Purpose Flour *
½ teaspoon baking soda
2 teaspoons gluten-free baking powder
Pinch of salt
2 Tablespoons honey
1 teaspoon apple cider vinegar
1 ½ cup vanilla yogurt (dairy or soy)
1 Tablespoon flax seeds
Toppings of choice (coarse sea salt, sesame seeds, flax seeds, etc.)

(* I cannot predict how this recipe will work with any other flour mixture but my own.  The mix recipe may be found in media links on my website and in my book,
Nearly Normal Cooking for Gluten-Free Eating
, or pre-mixed from my website.)
Directions:
In a small bowl, add the hot water and flax seed meal and stir. Let sit for 5 minutes. Add the yeast and one teaspoon of sugar to this mixture and stir. Set aside for 5 more minutes for it to begin to bubble and grow; if the mixture does not bubble or grow, throw it out and re-mix with fresh yeast.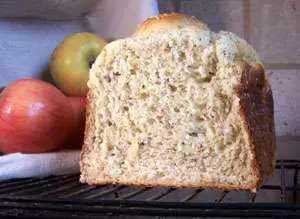 Sift remaining dry ingredients together in a large bowl. Cut in the pieces of shortening using a pastry cutter or the dough paddle on your mixer. Add the remaining liquid ingredients next, mixing well. Finally, mix in the yeast/flax seed meal mixture and stir well using the dough paddle. If the dough seems too thick to form a loaf, gradually mix in more yogurt, one quarter cup at a time, until the dough is still thick, but able to be smoothed with a spatula.

Scoop the dough into a greased bread pan (use a dark metal pan if you like a darker crust on your bread; lighter, shiny metal or glass if you like a light crust). Smooth the top, sprinkle with any toppings, then cover with a sheet of wax paper sprayed with cooking oil. Sit the covered dough for 30 minutes in a warm place like an oven warming drawer or even in your oven with the light on.
Remove the raised dough to a preheated convection oven set to 275 F or a preheated static oven set to 300 F. Cook for approximately 60 minutes, or until the crust is browning nicely and a cake tester or skewer inserted into the center of the loaf comes out clean (internal temperature should be 205-210F). Remove to a cooling rack and rotate gently from side to side every 5 minutes or so if it looks like your loaf wants to sink at all in the middle. When cooled for 15 minutes or more, remove from the loaf pan to finish cooling before slicing.