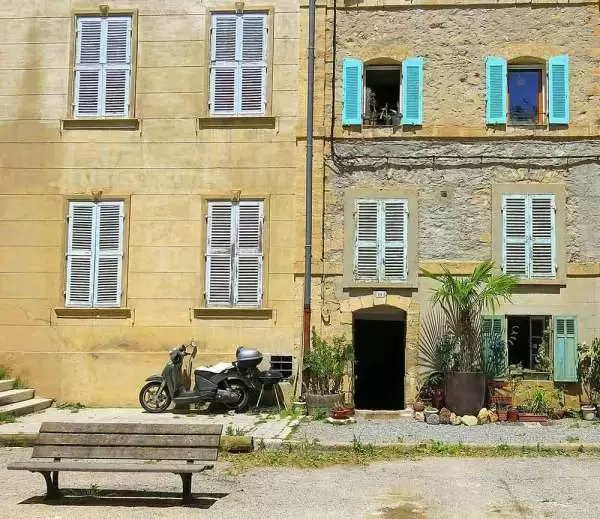 Caption: Public bench: Brue-Auriac, Var, Provence, France. Image: CC BY-SA 2.0--Spencer Means
Celiac.com 06/26/2019 - In all the world, there is only one Michelin-starred restaurant that is completely gluten-free. Nestled deep in the quiet countryside of Provence, the hotel and restaurant Auberge la Fenière has been welcoming guests for decades. Earning its Michelin star in 1995, the restaurant remains popular with food lovers from all over the world.
Interestingly for a Michelin-rated restaurant, there's no gluten to be found anywhere on the premises, and even homemade breads are gluten-free. Founded by Reine Sammut, one of France's top chefs and a rare women to earn a Michelin star. At Auberge la Fenière, Sammut perfected what she calls a "Mediterranean cuisine." 
---
Celiac.com Sponsor (A12):


---
---
Celiac.com Sponsor (A12-m):


---
The gluten-free part of the story begins in 2009, when Auberge la Fenière already had a long established track record of delicious food and happy diners. Sammut's daughter Nadia was diagnosed with celiac disease, and lactose intolerance. 

Nadia is a talented chef who has cooked in restaurants all over the world. She is also a trained chemist. Together, she and her mother decided to take the restaurant's menu entirely gluten-free, and nearly lactose free; though they still offer a cheese course, milk for your coffee, and the like.

Converting a successful Michelin-starred restaurant to a gluten-free eatery is a major risk. After much trial and error, the duo made the menu totally gluten-free in 2016. Their new approach meant changing not only the recipes, but the way ingredients are sourced and prepared. "The challenge is that gluten is found in so many places where you wouldn't expect it," explains Nadia, "like bouillons for sauces or chocolate for desserts. Even things that you would expect are ok, like chickpea flour, is often milled on equipment that also mills wheat, so it becomes contaminated."

Fortunately for Reine and Nadia, the Michelin judges loved the new menu and the restaurant kept its coveted star, making it the only totally gluten-free Michelin restaurant in the world. 

More importantly, customers continue to flock to Fenière. The food is so delicious, that most diners have no idea they are eating gluten-free. If you're lucky enough to find yourself in Provence, and are looking for a delicious meal that happens to be gluten-free, definitely consider Auberge la Fenière.

Contact information:
Auberge la Fenière
1680 Route de Lourmarin, Cadenet, France
http://www.aubergelafeniere.com
Tel: +33 (0)4 90 68 11 79
The four-course lunch menu is priced at 55 euros. There's also a six-course menu at 90 euros and an eight-course menu at 130 euros, or order a la carte.

Read more at Francetoday.com