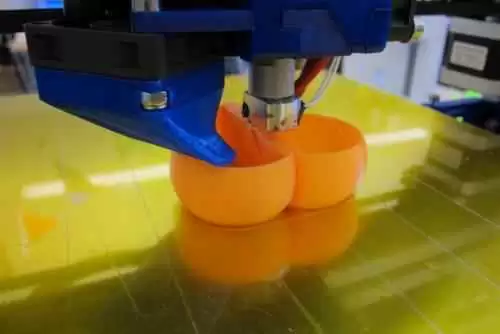 Caption: Photo: CC--John Abella
Celiac.com 12/11/2017 - With blazing progress in 3D printing technology, the future of numerous fields from house building to cake-making and, yes, cooking, is literally being written, or printed, before our very eyes.
Food is definitely one of those arenas that will see major influence for 3d printing. In the future, more and more kitchens will come with one of more 3d printers that deliver highly customized food choices for chefs, on demand.
In a talk presented at the 3D Printing and Beyond: Current and Future Trends conference at Hebrew university on October 25, Prof. Ido Braslavsky presented breakthrough 3D-printing innovations by Israeli and international experts from academia and industry. The conference was organized by the 3D & Functional Printing Center at the Hebrew University and Yissum, with the support of the Jerusalem Development Authority, the Ministry of Jerusalem Affairs and the Jerusalem Municipality.
One breakthrough touted by Baslavsky was the ability to use 3D food printing to serve "numerous populations including the gluten-free, vegetarian and vegan markets, as well as the specialized diet market, for anyone from athletes to people with diabetes or celiac disease."
In the very near future, chefs will be able to use a single machine to automatically prepare, mix, form and cook personalized food. Yaron Daniely, head of the university's Yissum Research & Development technology-transfer company, called the technology nothing short of revolutionary.
The self-assembly properties of nano-cellulose fibers enable the addition and binding of proteins, carbohydrates and fats as well as controlling the food's texture. The food products could then be cooked, baked, fried or grilled while being printed out in the three dimensional space.
"The idea is to enable full control of the substances used, for the purpose of creating healthy and tasty meals that can be eaten immediately. This has the potential to address a variety of challenges facing the field of nutrition, from the demand for personalized food … to addressing the problem of lack of food in developing countries," said Daniely.
Will printed food be the future of eating, gluten-free and otherwise? Stay tuned for more news on that front.
Read more at: Israel21c.org