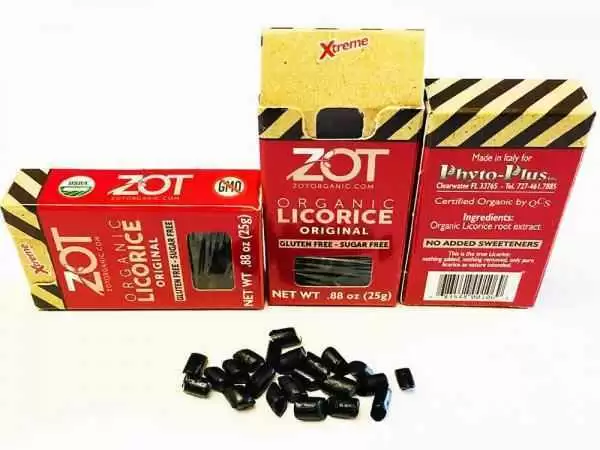 Celiac.com 05/10/2018 - I remember how depressing it was to discover, soon after I was diagnosed with celiac disease and had to go gluten-free, that most licorice candies contain gluten. It's hard for me to convey just how exciting it was for me, a true licorice lover, to discover a gluten-free alternative for my black licorice cravings: Xtreme ZOT Organic Licorice Original.  
It's amazing to me that its only ingredients are "organic licorice root juice extract." Did you know that for centuries licorice has been a natural treatment for stomach and other ailments? According to the ZOT Web site: "The ancient Greeks, Egyptians, Chinese, and Hindus recognized the natural medicinal qualities of licorice. In the United States, anise seed is a popular substitute flavoring for licorice. Although the anise seed has an unmistakable licorice flavor, it is not related to the European plant whose roots are the source of true licorice." Is it possible that I've been eating mostly the anise substitute for many years, and now I've finally discovered REAL licorice? 
---
Celiac.com Sponsor (A12):


---
---
Celiac.com Sponsor (A12-m):


---
It's hard to put into words the "black licorice power" that explodes from a single, Tic-Tac-sized piece of ZOT. It's like all the amazing black licorice taste of an entire box of candy licorice, all distilled down to one very small piece of "original licorice root extract," which, is probably is why it is called "Xtreme." They definitely don't fool around over at ZOT, and they make the perfect fix for licorice lovers like me.

One thing that is missing, however, is all the junk like sugar, coloring, etc., that are normally included in the candy-form of licorice, so it is truly a healthy choice. Each piece of ZOT takes time to slowly melt in your mouth, so enjoy every moment of it, as I did. The aftertaste of a ZOT reminds me of the tail-end of a full-bodied fine wine, complete with the tannin finish.

Visit their site for more info.