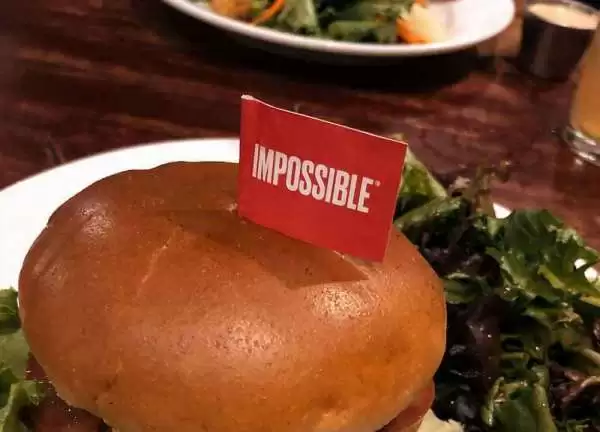 Caption: Image: CC BY 2.0--Tony Webster
10/02/2019 - The Impossible Burger is a gluten-free veggie burger made from potato and soy protein. What sets the Impossible Burger from other veggie burgers is that it is made from a plant version of heme, a shorter name for leghemoglobin.
Heme is an iron-containing molecule found in blood, and it's part of what makes meat taste meaty. However, the plant-based heme that helps give the Impossible Burger patty its beefy taste comes from the roots of a soy plant, instead of animal blood. 
The Impossible Burger patty is crafted from potato and soy protein, methylcellulose as a binder, flavoring from plant based leghemoglobin, and fat from sunflower and coconut oils to help the patty sizzle on the grill, and deliver the charred crust.
The great news for people with celiac disease is that the Impossible Burger is certified gluten-free. FDA-approved, and free of artificial and other questionable ingredients. Coconut, soy, or sunflower, are the only allergens.
Learn more at ImpossibleFoods.com