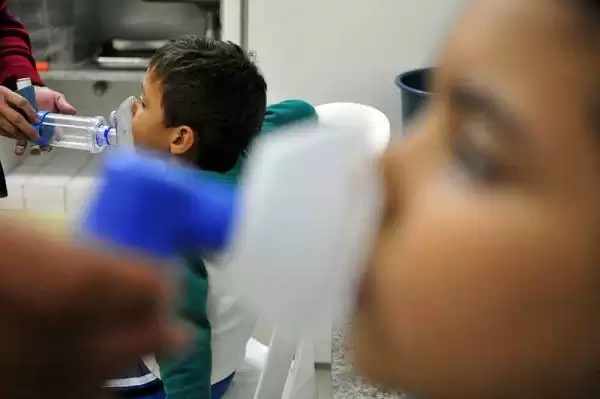 Caption: Children with pneumonia. Image: CC--Agência Brasília
Celiac.com 03/18/2019 - There have been a few studies linking celiac disease to a higher risk of pneumonia and other related bacterial infections, but good data is still lacking. In an effort to clarify the picture a team of researchers recently set out to assess the risk of hospitalization for bacterial pneumonia or pneumococcal infections in a cohort of young individuals with celiac disease, compared to matched references.

In all, the team looked at 213,635 residents of Friuli-Venezia Giulia, Italy, who were born in between 1989 and 2012. The team used various medical records to identify 1,294 celiac patients, along with 6,470 control patients, and to match them by age and sex. The team looked for hospital admissions for first-time cases of bacterial pneumonia and pneumococcal infection. They used Cox regression to calculate hazard ratios (HRs) for cases after celiac diagnosis, and conditional logistic regression to calculate odds ratios (OR) for cases prior to celiac diagnosis. They conducted further analyses of periods of unvaccinated follow-up.

They found a total of 14 celiac patients, from a data pool totaling 9,450 person-years, who had suffered a first episode of bacterial pneumonia, compared with 42 reference subjects from nearly 50,000 person-years. People with celiac disease showed a much higher risk of bacterial pneumonia before celiac diagnosis. This risk is especially high in the year before celiac diagnosis. Celiac patients showed an insignificantly higher risk of pneumococcal infection.

Children and youth with celiac disease show a substantially higher risk of bacterial pneumonia, especially in the year before celiac diagnosis. Based on the data, the researcher recommend anti-pneumococcal vaccination for all young celiac patients.

Read more at Digestive and Liver Disease.

 

The research team included Cristina Canova, Jonas Ludvigsson, Vincenzo Baldoa, Claudio Barbiellini Amideia, Loris Zanierf, and Fabiana Zingoneg. They are variously affiliated with the Department of Cardiac, Thoracic and Vascular Sciences and Public Health, University of Padua, Padua, Italy; the Department Medical Epidemiology and Biostatistics, Karolinska Institutet, Stockholm, Sweden; the Department of Pediatrics, Örebro University Hospital, Örebro University, Örebro, Sweden; the Division of Epidemiology and Public Health, School of Medicine, University of Nottingham, Nottingham, UK; the Department of Medicine, Columbia University College of Physicians and Surgeons, New York, USA; the Department of Cardiac, Thoracic and Vascular Sciences and Public Health, University of Padua, Padua, Italy; the Department of Surgery, Oncology and Gastroenterology, Gastroenterology Section, University Hospital of Padua, Padua, Italy; and with the Epidemiological Service, Health Directorate, in Udine, Italy.